University Mourns Passing of Lincoln Alexander
October 20, 2012 - News Release
Chancellor emeritus Lincoln Alexander, the University of Guelph's longest-serving chancellor and one of Canada's most groundbreaking and influential leaders, died Friday at the age of 90. The University's flags have been lowered in his honour.
President Alastair Summerlee has sent condolences on behalf of the University to Alexander's wife, Marni Beal; his son, Keith; his daughter-in-law, Joyce; and his granddaughters, Erika and Marissa. The University will hold a memorial service at a later date; more details will be forthcoming.
"Lincoln Alexander was perhaps the most admired and respected public figure in Ontario," Summerlee said. "He selflessly devoted his life to promoting education, equality and fairness. He led our University with grace and dignity for more than 15 years, and remained a great supporter and friend. He was an inspiration and a role model, and one of a kind."
Got a Linc memory to share? Post a comment on the University's Facebook page
Alexander was appointed U of G chancellor in 1991 and served an unprecedented five terms. He conferred degrees on more than 20,000 graduates at convocation. His rapport with students was legendary, and he always spoke to every graduate. In 2007, at the end of his final term, he was named "chancellor emeritus" to recognize his years of dedication to the University.
Alexander's life is often described as one of exemplary firsts. Among them, he was the first person in his family to attend university; Canada's first black MP; the first black chair of the Workers' Compensation Board; the first visible minority appointed as Ontario's lieutenant-governor; and the first person to serve five terms as U of G's chancellor.
He published a memoir, Go to School, You're a Little Black Boy, in fall 2006. "My book is aimed at people who think they can't do something or think they'll never make it," Alexander said then. "I'd like to think I'm helping convince others to never give up."
Alexander was born in Toronto Jan. 21, 1922, and grew up in Toronto and New York City. At age 20, he enlisted in the Royal Canadian Air Force during the Second World War. He earned a bachelor's degree in political economics from McMaster University in 1949. He attended Osgoode Hall Law School and was called to the bar in 1953. He was first elected MP for Hamilton West in 1968.
While in Ottawa, Alexander also served as an observer to the United Nations in 1976 and 1978 and was appointed labour minister by then prime minister Joe Clark in 1979.
Several Ontario schools, buildings and a highway have been named after him. Among his many awards, Alexander was appointed a Companion of the Order of Canada and to the Order of Ontario in 1992. In 2006, he was named the "Greatest Hamiltonian of All Time."
Three U of G awards carry his name: the Lincoln Alexander Outstanding Leadership Award, the Lincoln Alexander Medal of Distinguished Service and the Lincoln Alexander Chancellor's Scholarship. On campus, a refurbished teaching and research building called Lincoln Alexander Hall honours his commitment to the University.
"He was an amazingly giving man, and thousands of University students, faculty, staff and alumni have benefited from his devotion, kindness and generosity," Summerlee said. "He will be remembered, greatly missed and loved always."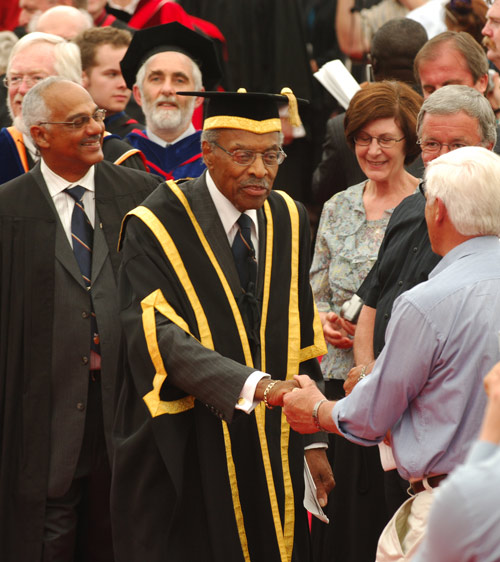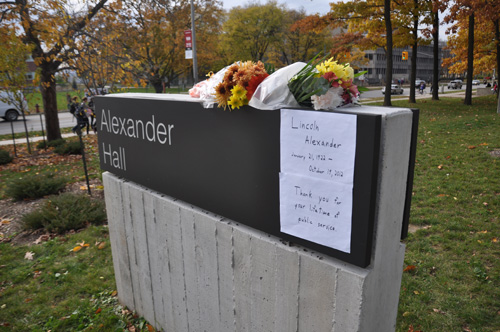 For media questions, contact Communications and Public Affairs: Lori Bona Hunt, 519-824-4120, Ext. 53338, or lhunt@uoguelph.ca, or Shiona Mackenzie, Ext. 56982, or shiona@uoguelph.ca.