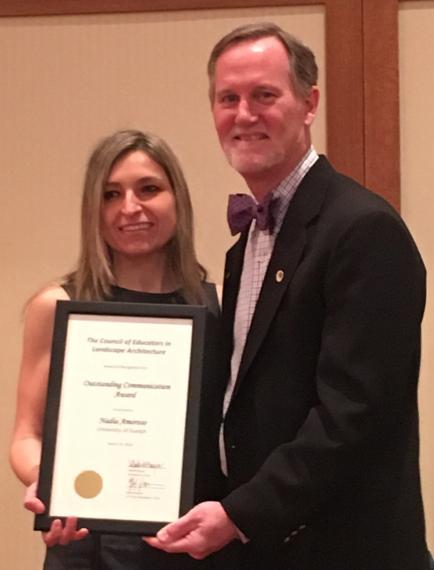 We are pleased to announce that SEDRD Landscape Architecture faculty member, Nadia Amoroso, has received the 2018 CELA (Council of Educators in Landscape Architecture) Award for Outstanding Communications. This award is given to an individual whose body of work "acknowledges truly outstanding, innovative and noteworthy work through communication. The intent is to honor an individual's or an organization's innovative communication work that has achieved high impact in and beyond landscape architecture and demonstrated high quality benefit to landscape architecture and/or the public at large. The award may include but will not be limited to bodies of knowledge communicated through books, journals, data-bases, web-based communication products, film series, white papers, reports...etc"  (2018 CELA Award Description).
Nadia's publications regarding visual representation in landscape architecture is recognized  as a significant contribution in landscape architectural education globally. 'Representing Landscapes' is a trilogy of books and online media which covers the important topic of visual communication landscape architecture education. Each book is a careful curation of students' works from landscape architecture programs across the globe.
The 2018 CELA conference's theme was "Transforming the Discussion". It was held at Virginia Tech, in Blacksburg, Virginia from March 21- 24, 2018.