Written by:
Stephen R. Penner, PhD Rural Studies student
Since leaving campus in April, upon completion of my first year of PhD coursework, I have continued doing work influenced by my cohort, amazing staff (Sara and Patricia) and professors at SEDRD ( Drs. Lauzon, Devlin, Gibson and Longboat- Chi Migwetch). Applying the wisdom and empathy that has become part of my DNA towards all the events that I have had the good fortune to be a part of. 
The summer started with a presentation to the Canadian Association of Food Studies Annual Assembly (May 27-29, 2018) at University of Regina- the topic was Reconciliation Through Food: How Experiencing Indigenous Food is Delivering an Understanding of Mino- Pimatisiwin (good life).  A huge thank you to SEDRED and Dr. Landman for sponsoring my participation at this event. The following week, I travelled to Ottawa, to be a part of The Global Conference of Indigenizing Entrepreneurship, were  presented as part of a tackling  "How Entrepreneurship Can Meet the Aspirations of Canada's Indigenous Peoples." My contribution was a presentation entitled Understanding Quajimajatuqangit and Northern Indigenous Knowledges: Facilitating A Made in the Arctic  Inclusive Socio-Economic Development Model.   
At the end of June through early July I was invited and attended  the ICRPS (International Comparative Rural Policy Studies) Summer Institute held at Tuskegee, Alabama. The theme this year was Social Justice, Rural and Natural Resource Policy.  I was so fortunate to be selected as the student representative from Guelph, and can say without a doubt that attending this event has helped focus my journey on the fundamental importance  of social justice.
Summer 2018 has allowed me to pursue working with Indigenous Communities through a project that began in  fall 2017 with Dr. Longboat.  Together with Nishawbe Aski  Nation,  we sought to contribute to a new approach of  food sovereignty recognized by the community.  We were invited to attend Kiitigaan Aski [1]  "Good things grow on the Land" Food Symposium held between July 31- August 3, in Thunder Bay to gather and disseminate stories in a good way.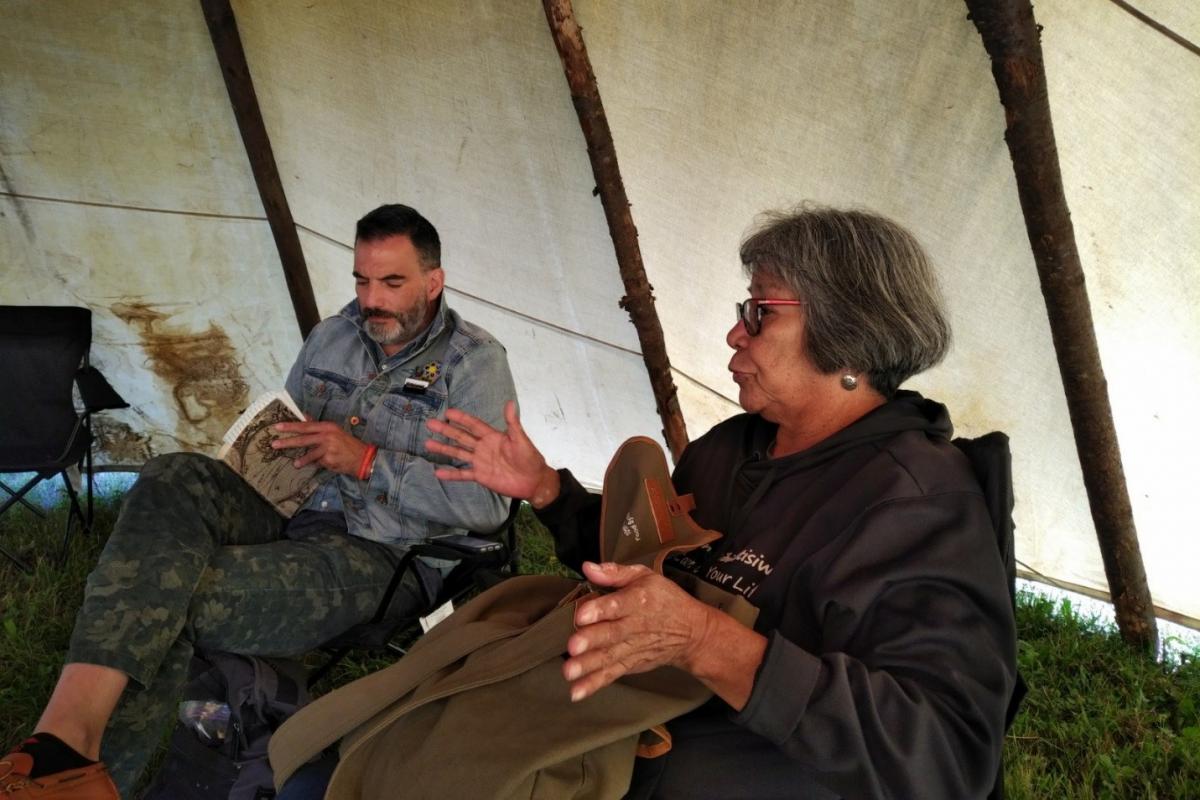 Photo Above: Gathering stories from Nishawbe Aski Nation Food Knowledge Keeper Ruth Stevens.
All this work is contributing to my journey.  This knowledge transfer has taken place alongside of reading and writing in preparation for my qualifying exam and instructing courses in early Indigenous History (University of Manitoba) and in Indigenous Business Planning for the Master's in Development Practice: Indigenous Development (University of Winnipeg). 
The teachings that I am grounded in have emerged from my experiences in the Rural Studies PhD program at Guelph and are supported by the opportunities that I have been encouraged to pursue.  This article would not be possible without the efforts and determination of the late Dr. Nonita Yap.  It was Dr. Yap who worked tirelessly to ensure that I was to come to Guelph to pursue my education, an effort that will never be forgotten by me.