Congratulations to Kira Burger who has won the 2018 A.D. Latornell Award of Merit at the 2018 Latornell Conservation Symposium [1]. This award was presented by the Ontario Chapter of the Soil & Water Conservation Society.  Kira is a third year Master of Landscape Architecture student at the University of Guelph.
The Soil and Water Conservation Authority - Ontario Annual A.D. Latornell Award of Merit is an ongoing initiative for continuing education and fostering the science and art of conservation for soil, water and related natural resources. The award recognizes those who through their dedicated hard work and in-depth studies strive to achieve sustainability and promote sound natural resource systems. Of key importance is the acknowledgement of the interdependence between people and their environmental setting.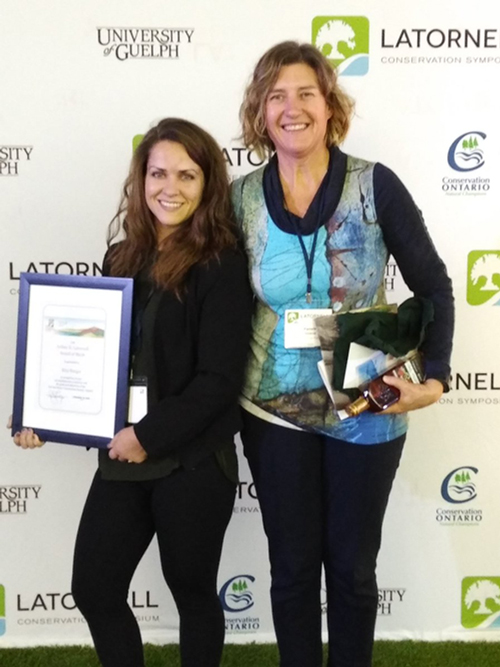 Photo:  Kira Burger (left) with Pam Joosse from Ag Canada, representative of the Soil Water Conservation Society. 
The Award winner receives a full year student membership to SWCS, an internationally known conservation organization. In addition, a cash award of $600 is presented along with a one-day sponsorship to attend the Latornell Conservation Symposium.
The 2018 Latornell Conservation Symposium took place from November 13-15, 2018 at the Nottawasaga Inn Resort & Conference Centre in Alliston, Ontario.
About Kira:
Kira Burger's commitment to environmental stewardship and enthusiasm for inquiry have inspired her through per personal, professional, and academic pursuits.  Upon completing a Bachelor of Arts and Science in International Development and Biology, Kira went on to work with a national non-profit delivering environmental education around the country by bicycle.  Years later, while volunteering at an agro-forestry research station in rural Cuba, she was struck by the profound impact of thoughtful land management to strengthen communities, steward our natural environment, and support resilient economies.  She returned to Canada to undertake an Apprenticeship in Horticulture, and is currently letting her work books dry out while completing her Master of Landscape Architecture.
Kira is driven to become a leader in the field of Landscape Architecture who demonstrates through research and practice how progressive, evidence-based planning, design and management of landscapes can conserve and enhance our natural capital, support healthy ecologies, optimize the delivery of environmental services, and provide for human needs.  She is especially interested in the intersection of soil and water conservation and food production, and is conducting her thesis research on the potential of urban forests to contribute to food security.