Elijah Dalton, a MSc Candidate in Capacity Development and Extension (CDE) within the School of Environmental Design and Rural Development has won a prestigious 2019 Shastri Indo-Canadian Institute [1] Research Fellowship.  The Government of India through the Ministry of Human Resource Development funds this competitive fellowship. Elijah will use this funding to support three-months of fieldwork in rural Bihar State in India. His research examines how monetary aid supports post-disaster children's outcomes.  Bihar experienced the devastating Kosi river floods in 2008, as well as several significant floods in subsequent years.  Limited research has explored the linkages between aid, post-flood livelihood rehabilitation, and children's protection, health and education outcomes.  Elijah is advised by Dr. Helen Hambly, Capacity Development and Extension, University of Guelph and Dr. Aditya Raj of the Department of Sociology, Indian Institute of Technology Patna in India.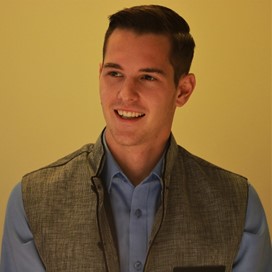 Photo:  Elijah Dalton
The team expresses its appreciation to the Shastri Indo-Canadian Institute for providing Elijah with this exciting research opportunity!