University of Guelph – Landscape Architecture Digital Design Lecture:
Fadi Masoud, Assistant Professor in Landscape Architecture & Urbanism, University of Toronto; and Director of the Centre for Landscape Research
Lecture on "Terra-Sorta-Firma:  Reclaiming the Littoral Gradient"
Fadi Masoud [1] is an Assistant Professor of Landscape Architecture and Urbanism at the University of Toronto and the Director of the Centre for Landscape Research. His research,teaching, and design work focuses on establishing relationships between dynamic large-scale environmental systems, design, and instrumental planning policy tools.  Masoud leads research projects on adaptive urban and landscape design, novel resilient urban codes, and the future of metropolitan public open space. Prior to joining the University of Toronto, Masoud held teaching and research appointments at the Harvard University's Graduate School of Design and Massachusetts Institute of Technology. He is the editor of Terra-Sorta-Firma: Reclaiming the Littoral Gradient, an atlas of urbanism on reclaimed land (Actar 2020). Masoud currently sits on Waterfront Toronto's Design Review Panel as well as the City of Toronto's Urban Flooding's Working Group.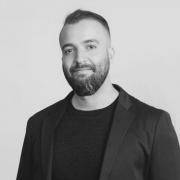 Image:  Fadi Masoud.
Lecture supported by SSHRC CRSH grant. 
All welcome to attend.  If you are interested in joining, please email Shayla Spalding [2], student guest lecture assistant.
Contact:  Landscape Architecture Guest Lecture Coordinator:  Nadia Amoroso [3], Assistant Professor.