University of Guelph - Landscape Architecture Guest Lecture Series presents:
Eelco Hooftman, Principal and Founder of GROSS. MAX.

[1]

, Scotland  
Visiting Professor at Harvard's Graduate School of Design
Lecture on "

"Works by GROSS.MAX."
Eelco Hooftman is a notable international landscape architect. In 1995, he founded GROSS.MAX. in Scotland with partner Bridget Baine, GROSS.MAX. is an award-winning firm which pushes the boundary in a new generation of contemporary landscape architecture. The visualizations are recognized within the profession as surrealistic, imaginative, and speculative.  The firm has won numerous awards for public space and GROSS. MAX. has an international portfolio of exciting and challenging projects. Their designs present a contextual approach with a contemporary expression towards urban space. In recent years, they won numerous competitions for public squares such as Lyric Square, Potters Field Park and Brixton Central Square in London, UK.  Between 1990-2008, Eelco taught at the School of Landscape Architecture at Edinburgh College of Art. He has been a regular visiting critic at AA London, and ETH Zurich, and he is visiting professor at Harvard's GSD.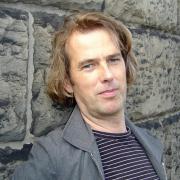 Image:  Eelco Hooftman
Lecture kindly supported by the Ontario Association of Landscape Architects [2].
All welcome to attend.  If you are interested in joining, please email Cameron Graham [3], LA student guest lecture assistant.
Contact:  Landscape Architecture Guest Lecture Coordinator:  Nadia Amoroso [4], Associate Professor.