University of Guelph - Landscape Architecture Guest Lecture Series presents:
Gena Wirth, RLA & Principal of SCAPE Studio

[1]

, New York City
Lecture title: "Climate Adaptive Landscapes"
Gena is the Design Principal at SCAPE Studio. Trained in landscape architecture, urban planning and horticulture. Gena draws from her interdisciplinary training to create ecologically rich and culturally relevant landscapes from the infrastructural scale to the site level. Gena leads the design on several significant projects in the office.
Gena was on the original 'Oyster-tecture' team and was the Project Manager for SCAPE's involvement in SIRR, studying large-scale harbor-wide strategies for coastal protection measures that will be utilized in preparation for the next Superstorm. She was also the Project Manager for SCAPE's winning Rebuild By Design proposal, Living Breakwaters, a climate change resiliency strategy for the South Shore of Staten Island.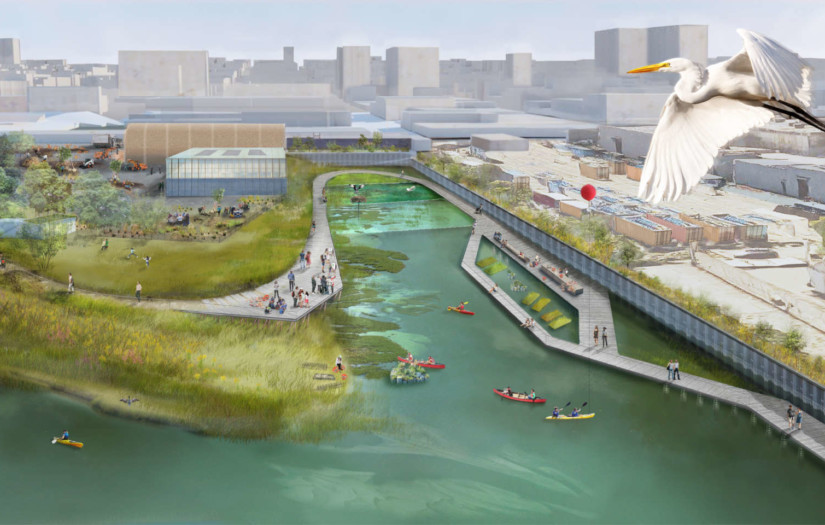 Image: The Gowanus Lowlands, Brooklyn, NY
At SCAPE, she had led projects that bridge research and practice, including the Columbia University Medical and Graduate Education Building Landscape, Town Branch Commons in Lexington, KY, Academy, Petrochemical America (Aperture Foundation, 2012), and the Museum of Modern Art exhibition 'Oyster-tecture.' She has taught interdisciplinary landscape studios at the Columbia University's Graduate School of Architecture, Planning, and Preservation and Rutgers University.Gena holds a Master of Landscape Architecture and Master of Urban Planning with Distinction from the Harvard University Graduate School of Design and a Bachelor of Science in Horticulture from the University of Delaware.
Lecture kindly supported by the Ontario Association of Landscape Architects [2] and SSHRC Grant.  All welcome to attend.  

Contacts:  Landscape Architecture Guest Lecture Coordinator:  Nadia Amoroso [3], Associate Professor.  
Videoconference link to the lecture for external individuals:  please contact our F22 Speaker Series Student Assistant: Alya Al-Rajab [4].