This past year, Drs Nadia Amoroso and Martin J. Holland, Associate Professors in Landscape Architecture within the School of Environmental Design and Rural Development, released a new book publication titled Representing Landscapes: One Hundred Years of Visual Communication. 
This book offers a detailed account of how past and present landscape architects and practitioners have harnessed the power of visualization to frame and situate their designs within the larger cultural, social, ecological and political milieux. The presentations contained within this collected work are not merely drawings and illustrations but are rather graphic touchstones whose past and current influence shapes how landscape architects think and operate within the profession. This book is full of informative illustrations crafted by the masters of the profession. This collected volume of essays brings together notable landscape historians, scholars and designers such as Peter Walker, Petra Blaisse, Frederick Steiner, Adriaan Geuze, Kona Gray, Chip Sullivan, Walter Hood and more.  It offers insights into how the landscape has been presented and charts the development and use of new technologies and contemporary theory to reveal the conceptual power of the living medium of the larger landscape. Dr. Nadia Amoroso specializes in visual communication, and Dr. Martin Holland specializes in landscape architectural history and theory.  It is a 'must-have' publication for landscape architectural students for their personal library.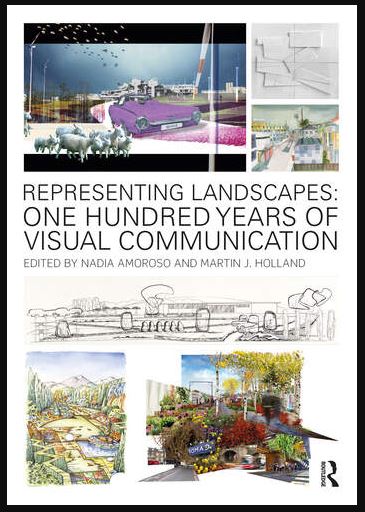 Representing Landscapes: One Hundred Years of Graphic Communication is the fifth book in the Representing Landscapes Book Series. Please find more on the Routledge [1] publisher website.