Location:
Landscape Architecture Pit (lobby)
School of Environmental Design and Rural Development - Landscape Architecture Guest Lecture Series presents:
Roberto Rovira, Florida International University
"Temporary Permanence:  Landscapes, Ecology and Public Space"
Thursday, September 21, 2017
12:15 pm
Landscape Architecture Pit
BYO Lunch.  Light refreshments will be served at noon.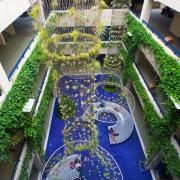 Principal of Studio Roberto Rovira, ASLA, Associate Professor, and former chair of Landscape Architecture + Environmental and Urban Design at Florida International University. As a landscape architect with a design, engineering, and fine arts background, his teaching, research, and creative work explore the potenial of landscape architecture in public space and the intersection of technology and the natural world. Roberto has been recognized nationally and internationally for his work as an educator and professional. Most recently, the Architectural League recognized him as one of eight 2015 Emerging Voices. In 2017, he was idenified by Architect's Newspaper as 1 of the 5 most exciting design firms in Miami.
All welcome to attend.
Lecture sponsored by the Vandergrift Family Endowment in collaboration with the Ontario Association of Landscape Architects [1].