Bachinski/Chu Print Study Collection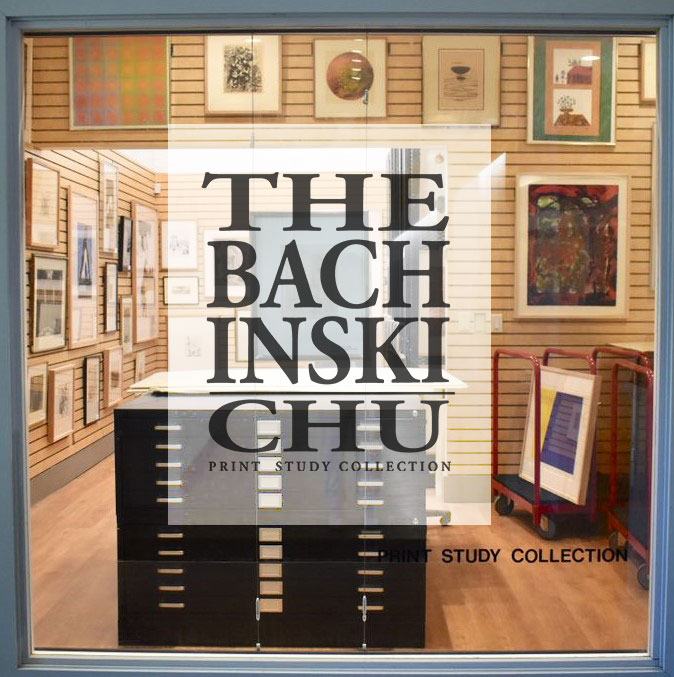 The Bachinski/Chu Print Study Collection (B/Chu) is a remarkable student-initiated, student-supported, student-run, and student-focused resource containing over 2,200 fine art prints spanning the technological and aesthetic developments of fine art printmaking from the sixteenth century to today. Founded in 1968 and named for retired School of Fine Art and Music studio art faculty Professors Walter Bachinski and Gene Chu, this dynamic art centre provides opportunities for students to examine closely examples of historic and contemporary fine art prints and develop professional curatorial skills including collections management, exhibition design, museum education, fundraising for the arts, and community outreach and event planning, more broadly. Primarily funded with proceeds of the biannual fall and winter SOFAM Student Print Show and Sale, as well as cash and 'in-kind' donations from members of our community, the B/Chu has contributed to award-winning and collaborative exhibitions, hosted quality experiential learning opportunities, created exciting research collaborations, and delivered stimulating community events.
About Professors Bachinski and Chu
Professor Walter Bachinski began his teaching career at the University of Guelph in 1967 following the completion of an M.A. in Studio Art at the University of Iowa. Also, a graduate of the Ontario College of Art, Bachinski has had a long and distinguished career as a printmaker, sculptor and painter whose works have been included in solo and group exhibition in galleries and museums across Canada and abroad. His pastels, drawings and sculpture can be found in such collections as the Macdonald Stewart Art Centre, the Art Gallery of Hamilton, the Kitchener-Waterloo Art Gallery and Montreal Museum of Fine Arts. Walter Bachinski: Approaching Classicism; works from 1979-1989 was organized by the Kitchener-Waterloo Art Gallery in 1991 and Bachinski: Still-life-Ten Years was mounted by the McLaren Art Centre in Barrie, Ontario in 1992. Walter Bachinski is currently represented by the Moore Gallery, Toronto. He took an early retirement in 1993.
Professor Gene Chu came to the University of Guelph in 1969. Gene completed his M.F.A. at the Claremont Graduate School in California in 1968 after studying previously at the Ontario College of Art and the Art Students' League, N.Y. Well-known across Canada as a printmaker, he has shown his lithographs in major international and national exhibitions at such galleries and museums as the Philadelphia Museum of Art; Pratt Centre, N.Y.C.; De Cordova Museum, Mass.; Silvermine Guild, Conn.; Washington Society of Painters, Sculptors and Engravers; Art Gallery of Hamilton, etc. His prints have been collected by such museums as Macdonald Stewart Art Centre, Tom Thomson Memorial Gallery, McMaster University, Memorial University, London Regional Art Gallery, etc. Professor Chu took an early retirement in 1995.