University of Guelph,College of Arts
and the School of Fine Art and Music present the
13th annual Dasha Shenkman Lecture in Contemporary Art
Featuring UK-based award-winning Sculptor,
Phyllida Barlow
Wednesday, March 20th, 2019
6pm
War Memorial Hall
University of Guelph
Guelph, Ontario
 
Admission Free - Everyone Welcome!  
Free parking in P23/24 and P19 after 5:00 pm
 
For more than 50 years, British artist Phyllida Barlow has taken inspiration from her surroundings to create imposing installations that can be at once menacing and playful. She creates anti-monumental sculptures from inexpensive, low-grade materials such as cardboard, fabric, plywood, polystyrene, scrim and cement. These constructions are often painted in industrial or vibrant colors, the seams of their construction left at times visible, revealing the means of their making.
Barlow's restless invented forms stretch the limits of mass, volume and height as they block, straddle and balance precariously. The audience is challenged into a new relationship with the sculptural object, the gallery environment and the world beyond.
'There's something about walking around sculpture that has the possibility of being reflective, like walking through a landscape,' Barlow has said. 'The largeness of sculpture has that infinite possibility to make one engage beyond just the object itself and into other realms of experience.'
Phyllida Barlow (b. 1944, Newcastle upon Tyne, United Kingdom) lives and works in London, United Kingdom. Recent solo exhibitions have been presented internationally at venues including Kunsthalle Zürich, Zurich, Switzerland (2016); Nasher Sculpture Center, Dallas TX (2015); Fruitmarket Gallery, Edinburgh, Scotland (2015); Tate Britain, London, United Kingdom (2014); Norton Museum of Art, West Palm Beach FL (2013); New Museum, New York NY (2012); and Serpentine Gallery, London, England (2010). Barlow's work has also been included in group exhibitions at institutions such as Schirn Kunsthalle, Frankfurt, Germany (2018); Carnegie Museum of Art, Pittsburgh PA (2013); Haus der Kunst, Munich, Germany (2011); and Museum Ludwig, Cologne, Germany (2011). In 2017, Barlow presented the British Pavilion at the 57th Venice Biennale in Venice, Italy.
In February 2019, the Royal Academy of Arts, London, will open 'cul-de-sac,' a solo exhibition of Barlow's work.
PDF POSTER: https://www.uoguelph.ca/arts/system/files/Phyllida%20Barlow%20Shenkman%2... [1]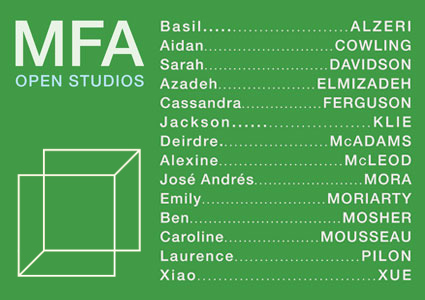 Please also plan to join us for the MFA Open Studios before and after the lecture:
The MFA students in the School of Fine Art and Music at the University of Guelph are pleased to welcome the public to their annual Open Studios, offering a rare inside look at the development of new work within the environment of an art program and a chance to chat with artists about their work in progress.
Open Studios 2019 features work by graduate candidates. Stay tuned for more information!
 
PDF POSTER: https://www.uoguelph.ca/arts/system/files/MFA%20Name%20Poster%202019.pdf [2]
A free bus will leave Mercer Union (1286 Bloor Street West) in Toronto at 2 p.m. and leave the University of Guelph to return to Toronto at 8:45 p.m.  
REGISTER FOR TORONTO SHUTTLE: www.eventbrite.ca/e/shenkman-lecture-and-mfa-open-studios-bus-tickets-55704156632 [3]
A free shuttle service between Open Studio buildings is available between 2:00 p.m. and 5:45 p.m. and 7:30 p.m. and 8:45 p.m.  Volunteers will be available to provide directions and assistance.  Volunteers will be wearing kelly green toques.
Press contact: Sandra Sabatini Ph.D., sabatini@uoguelph.ca

[4]

, 519-824-4120 x53869;