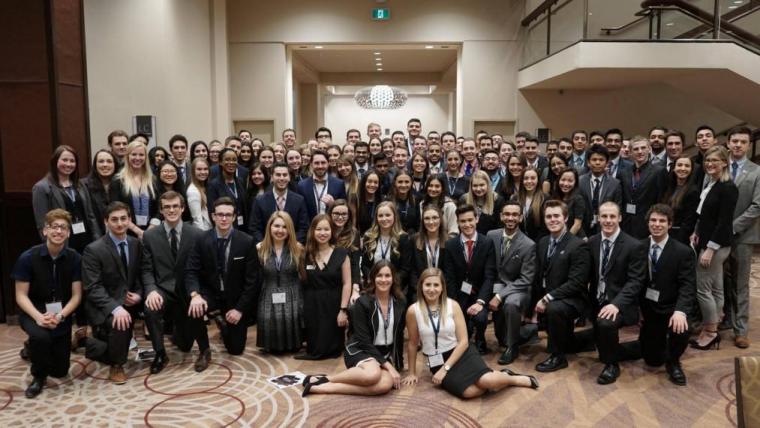 The University of Guelph's DECA U team brought home multiple awards last weekend from Canada's largest undergraduate conference. The DECA U provincials united 1400 delegates from 22 universities and colleges in Ontario to compete in multiple academic categories through written and oral cases.
The University of Guelph delegation of 112 students was recognized for outstanding performance in four categories: accounting, travel management, human resources management and restaurant and food services. The team also received third place in SEED, a startup pitch competition.  In total, the delegation brought home seven awards.
"I can't describe how proud I am of our delegation this year. Everyone put in an incredible amount of hard work, time and dedication," said Rachel Vito, co-president of DECA U Guelph. "We won seven awards in a variety of categories showcasing DECA U Guelph's diverse talent. I am so excited to see all the amazing things that the future has to hold for this chapter."
Preparing for a competition like the DECA U provincials requires months of work from the students, but the rewards are well worth the effort. DECA U delegates have the opportunity to develop professionally, grow their network, in addition to gaining other skills that will serve them as they start their careers.
"Joining DECA has been one of the best decisions I have ever made," Vito added. "Competing at events like DECA is so important to not only gain real life skills such as public speaking, critical thinking and time management but to also meet and connect with so many amazing people."
DECA U Guelph's commendable performance follows the JDC Central competition held in early January where the University of Guelph team was also recognized multiple times [1] for their academic performance.
Awards
Restaurant and Food Services written case: Jacqueline Simard
Restaurants and Food Services oral case: Jacqueline Simard
Restaurants and Food Services first place overall: Jacqueline Simard
Accounting written case: Sam Makovnyk
Travel Management oral case: Mathew Miranda
Human Resources Management oral case: Emily Kaldis
SEED startup pitch competition third place: Daniel Kolominsky, Stefan Karpowicz, Saul Sanchez