JDC Central team brings home multiple awards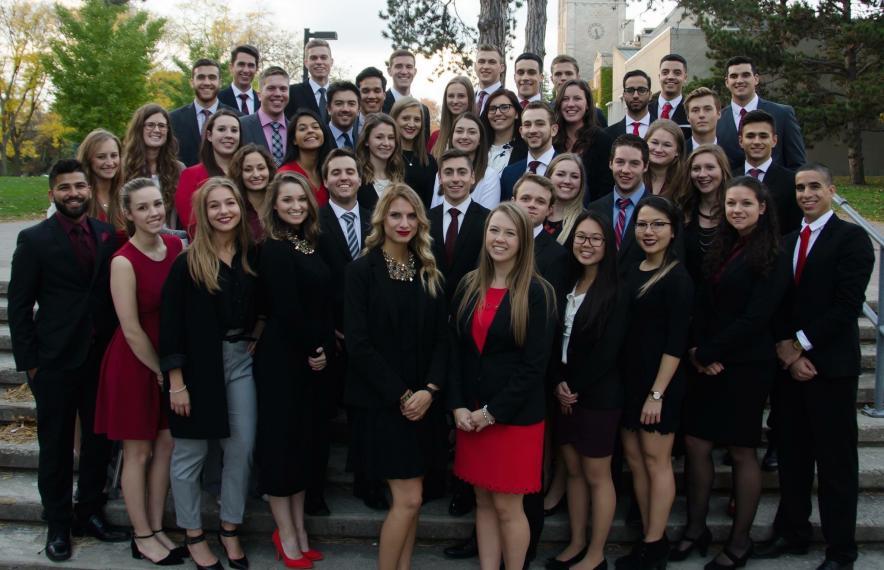 The University of Guelph's JDC Central (JDCC) team started 2017 by earning plenty of bragging rights following its performance at JDCC in Ottawa last weekend. The team brought home four bronze medals in addition to recognition for spirit, participation and team leadership.
Held annually, JDCC unites hundreds of top business students from schools across Central and Atlantic Canada to compete in a wide range of areas that represent different segments of university life: academic, debate, sport and social. Students spend months preparing for the three-day competition and receive mentoring and coaching from JDCC alumni and College of Business and Economics faculty. In addition to competing, participants are also required to raise funds and dedicate a minimum of 20 hours to volunteering for charity.
"There has never been a more dedicated group of commerce students who strived to improve and succeed as much as this team," said JDCC Guelph co-captains Jill Brown and Kristine Pantaleo. "Every weekend each delegate attended a mock to analyze and present cases, debate in parliamentary style, attend a sports practice, and perform a social challenge. They implemented the immense amount of feedback they received on a weekly basis in order to improve and further develop their skills."
All of this work paid off. University of Guelph's team brought home third place honours in four academic categories: business strategy, entrepreneurship, international business and marketing. Furthermore, Pantaleo and Brown received the Captains of the Year Award, Rhys Flatman received the inaugural Mitch Brown JDCC Spirit Award and Joseph Belanger was recognized as the Team MVP. As a team, U of G was also awarded first place for participation. 
"Each and every delegate represented our school at an elite level and showed the JDCC spirit throughout the weekend," Pantaleo and Brown added. "Achieving a place on the podium is not an easy task and the effort that was put in directly correlates with the results."
Congratulations to all of our JDCC competitors!
Awards
1st Place Participation : Full Team Award
3rd Place Business Strategy: Alexander Beggs, Ashwin Lal and Jake Taylor
3rd Place Entrepreneurship: Jonas Postons, Tori Bellwood and Marco Ghegin
3rd Place International Business: Emily Allan, Andres Blanco and Petar Radic
3rd Place Marketing: Sarah Shepherd, Samantha Millar and Julien Forget
3rd Place: Overall Academics
5th Place: School of the Year
Mitch Brown Sportsmanship Award: Rhys Flatman
Team MVP: Joseph Belanger
Captains of the Year: Jillian Brown and Kristine Pantaleo
Share this page
Find related news by keyword
News Topics