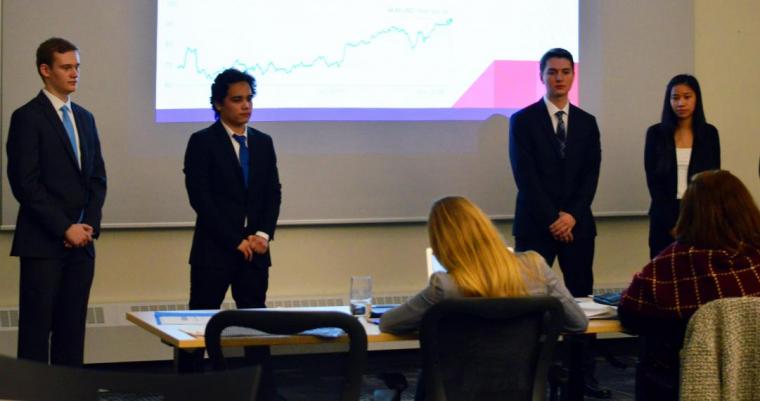 On Friday, more than 850 first-year U of G Bachelor of Commerce students learned first-hand how to manage an ethical dilemma, as part of a live case competition for their Introduction to Business class.
As the final phase of the intro class, the Great Ethical Dilemma case competition is a unique learning initiative that teaches first-year business students how to act ethically in the face of a real-time ethical dilemma.
"The event is an example of the active, transformation learning that the College of Business and Economics champions as we strive to develop leaders for a sustainable world," said Julia Christensen Hughes, dean of the college. "The competition is a unique experience for young business students to learn about business ethics in a high-pressure environment and develops the skills to manage demands of the modern business world."
Throughout the semester, 168 student teams researched two of Canada's largest industries: transport/travel and food. Each group was assigned an organization and tasked with conducting an extensive company analysis for their organization, which included: a macro environmental scan of the political, economic, social, technological, environmental and legal forces that could potentially influence or impact the organization; an industry, market and competitive analysis; and an internal assessment that included a strategic and financial overview.
This semester-long research project culminated when a fictitious email from their chosen company's PR department informed them of a dilemma that needed an immediate resolution. Each team then had 38 hours to prepare a presentation to the company's executive advisory board on how their assigned company should ethically respond.
Each company's executive board comprised of industry professionals, including:
Alastair MacDonald (Sr. VP of Human Resources, Nestle Canada Inc.)
Bill Laidlaw (President, Parkelaw Inc.)
Chris Pepper (VP Corporate Affairs, Fidelity Investments Canada)
Christopher Hennebelle (VP HR and Corporate Affairs, A.T. Transat Inc.)
Gabrielle Caron (Legal Counsel and Corporate Secretary, Via Rail)
Jason Begley (Director, People and Labour Relations, WestJet)
Josh Richardson (Director of North American Sales and Service, VIQUA)
Lisa McNeil (President, Gordon Food Service Ontario)
Myrka Manzo (Manager of Environmental Affairs, Air Canada)
Michelle Benoit (Vice-President Commercial Finance, Walmart)
Robin Lee Norris (President, Robin Lee Norris & Associates)
Tyler Whale (President, Ontario Agri-Food Technologies)
At the end of each presentation, teams had to think on their feet to provide thoughtful and relevant responses to questions proposed by the board.
"The exercise really challenges our students to work collaboratively under pressure, arming them with practical skills needed to work responsibly in future careers," said Kathleen Rodenburg, professor for the Introduction to Business class. "They learn how to think analytically and critically, yet ethically. Something not all classroom learning does."
After all the presentations were finished, the winning teams had the opportunity to network with industry leaders and company representatives at a reception held in PJ's Restaurant on campus. An overall winning team will be determined based on best report and competition performance. They will be given $1,000 to invest in a startup company within CBaSE's Hub program, the University's startup incubator which supports early stage businesses with high potential but unproven business models. To date, over 60 companies have been through the Hub program.
Special thank you to CPA Ontario for sponsoring the event.
Congratulations to the winning teams!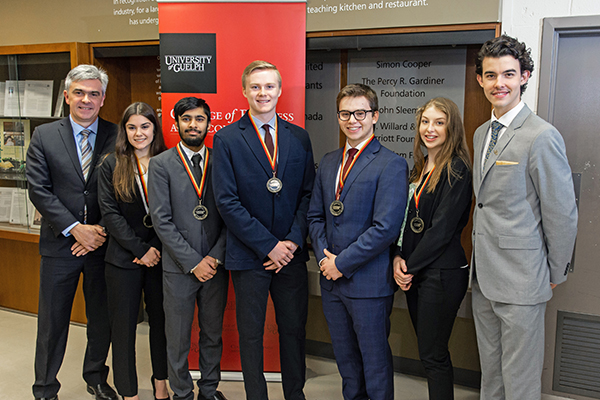 Winning group for the Air Transat case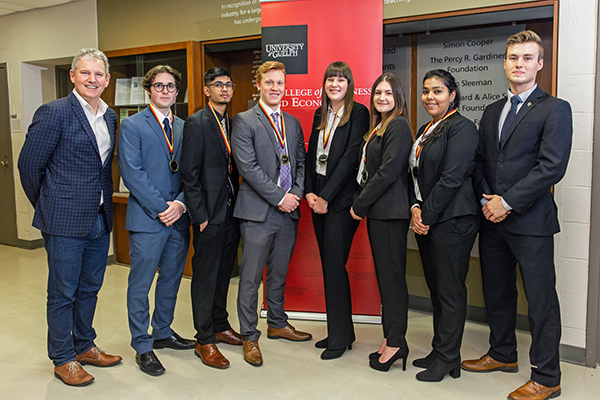 Winning group for the Nestle case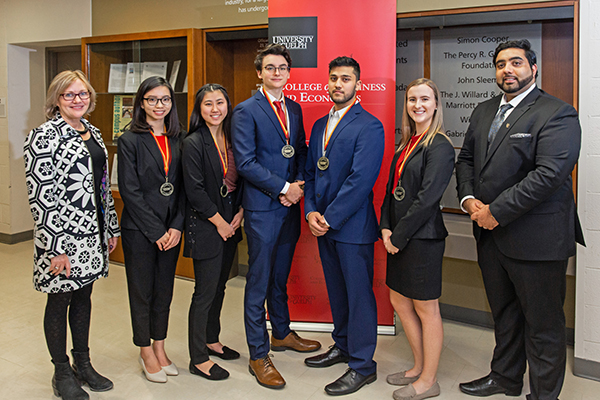 Winning group for the Costco case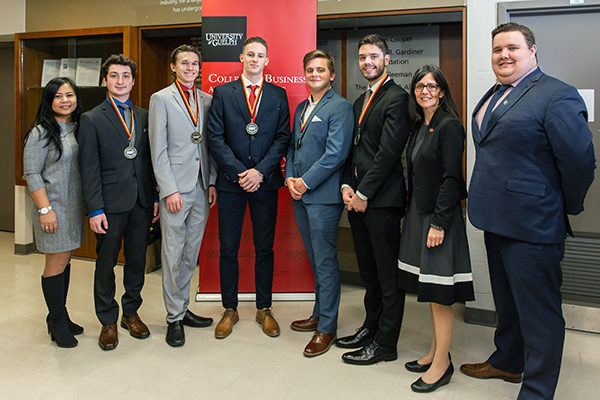 Winning group for the Air Canada case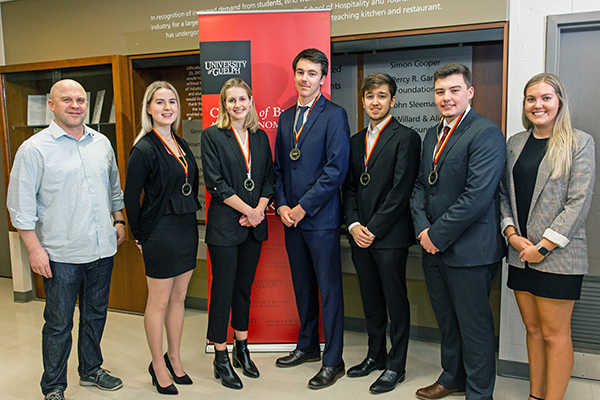 Winning group for the WestJet case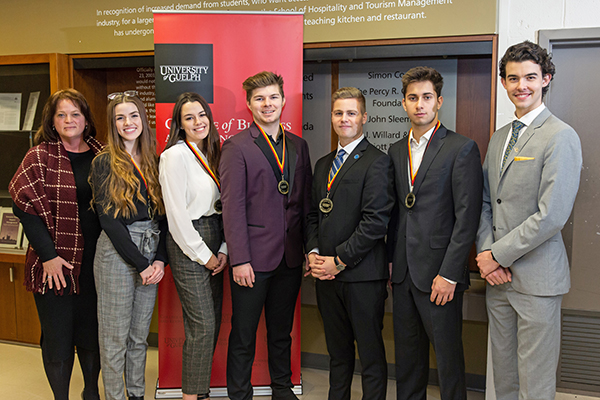 Winning group for the Walmart case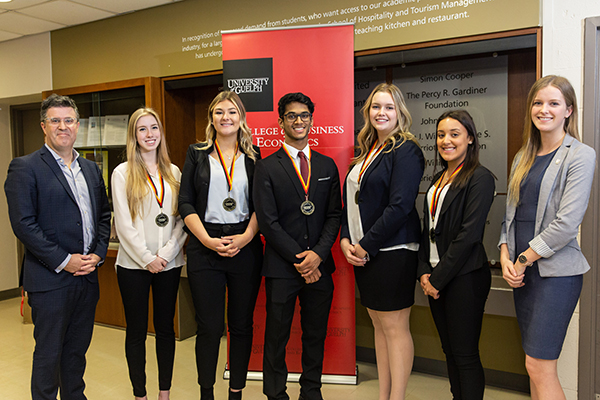 Winning group for the Boeing case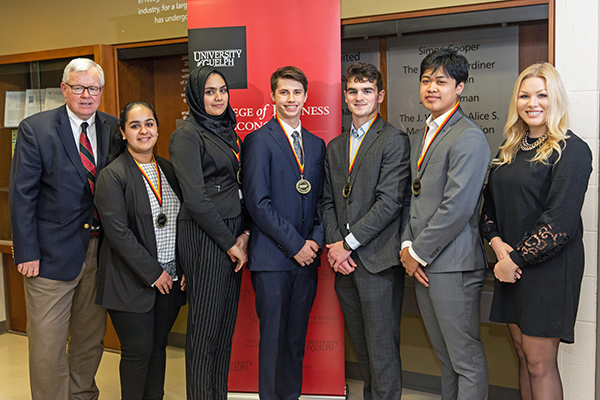 Winning group for the Bombardier case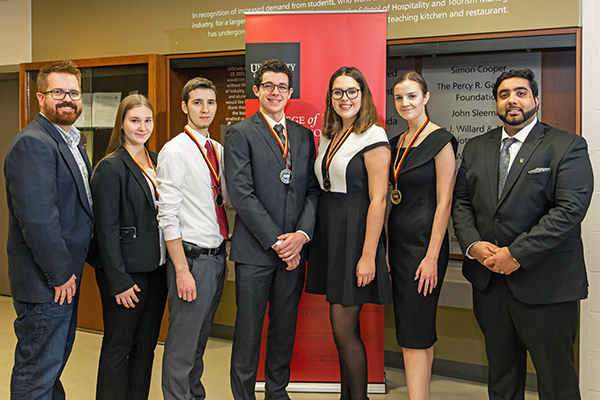 Winning group for the Core-Mark case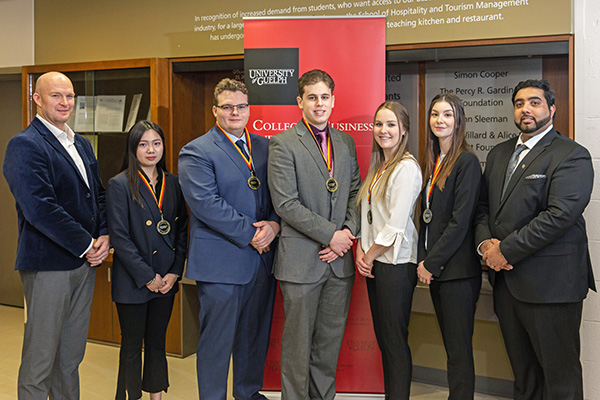 Winning group for the Conagra case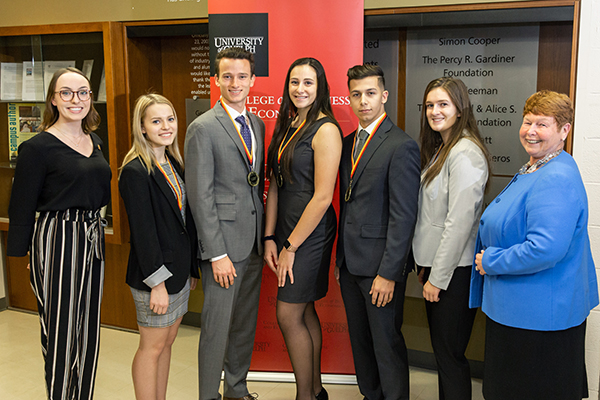 Winning group for the Starbucks case (one of two)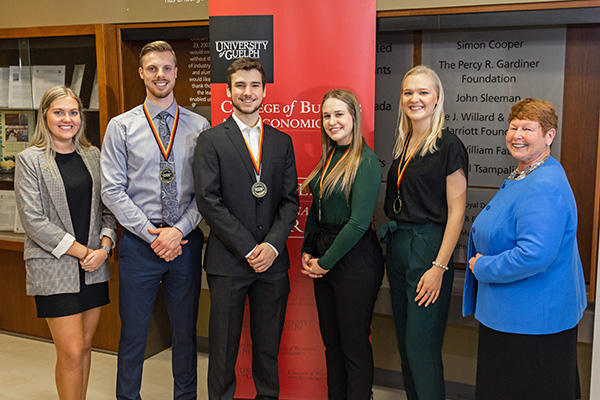 Winning group for the Starbucks case (two of two)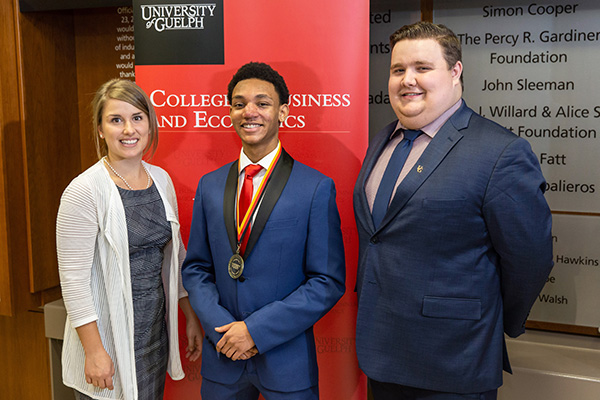 Winning group for the CN Railway case