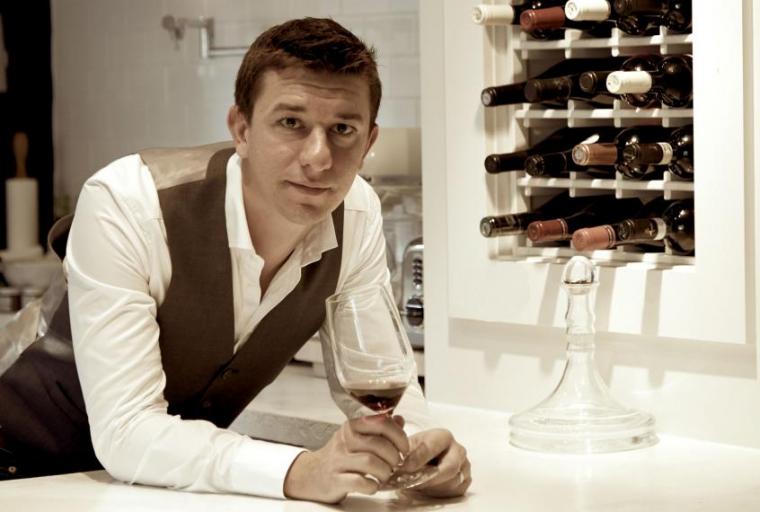 Nicholas Pearce (BComm '04) has had a unique career path. Hoping to land a job in the hospitality industry, Pearce enrolled in Lang's Hospitality and Tourism Management major (HAFA at the time). His experiences at UofG and Lang opened his eyes to the world of beverage importing and exporting, which ultimately led to starting his own business, Nicholas Pearce Wines in 2011. A premier wine focused agency serving the LCBO and all of Ontario's top hotels, restaurants and wine collectors, Pearce has grown his company to become a powerhouse for the discerning wine connoisseur market.
We sat down to learn more about Nicholas' career path and how he has been able to grow his company.
---
Nicholas Pearce
Managing Director, Nicholas Pearce Wines
From: Uxbridge, Ontario
BComm '04
MBA from the Bordeaux International Wine Institute in Bordeaux, France
Can you describe a typical day in your life?
I have become an early riser over the last 5 years. It's amazing what you can get done before the rest of your time-zone wakes up. I typically start my day before the sun rises with emails, jogging (if possible) and most importantly having breakfast with my family. I drop my son Benson off at Day Care and then I'm in the office with the team. Working with winery partners around the world means my responsibilities are 24 hours a day, coupled with our restaurant partners who are working until after last call. I'm sometimes waking up not too long after they are getting home. However, we have an amazing team that manages the day-to-day, allowing me to be a solutions-oriented problem solver for most of the day now.
No two days are the same for me. Some days I will be at a winery in France or Italy, tasting new wine and meeting with our partners. I love traveling so this job is a great fit for me. When I'm in Ontario, I'll typically spend my mornings in the office or with the LCBO, and the afternoons are typically spent meeting with sommeliers, chefs & restaurant managers. We have a great relationship with the LCBO and all the top restaurant/hotels, so demands and expectations are high, and we strive to over deliver for all of them!
Why did you make the decisions to enroll at UofG?
There are lots of reasons why I chose UofG for my BComm degree. Lang and the UofG are one of the only Schools in Canada to offer a hospitality program, with a degree in business. I really wanted that added bonus of receiving specialized training in an area that I loved (hospitality and restaurant management) while receiving a solid foundation of business skills and training.
I'm originally from the small town of Uxbridge (represent) just north of Toronto, so Guelph was a great mix of a bigger city, but with a community feel. Plus, my best friends went to universities in Toronto, London, Waterloo and Hamilton, so Guelph was a perfect location for me to easily drop in and visit them.
Why did you want to pursue a career in hospitality?
I was always into cooking and fine cuisine, so I knew I wanted to be part of the industry in some form. The great part about the restaurant and hospitality industry is that there are so many opportunities. The skills you learn in one industry, like restaurant management, can be easily applied to another, like hotel management or really any other type of manager.
I also had an uncle who worked as a hotelier overseas. He was always a really posh, knowledgeable, well-dressed, "super cool" guy, so I looked up to him a lot.
What was your most memorable experience at UofG?
There were lots! I loved the Restaurant Management course where we worked in a fine dining atmosphere at Pj's Restaurant with Chef Simon Day. Our restaurant dinner was called "A Winter's Tasting" where we offered a French-inspired gastronic tasting menu to our guests. It was great to see my friends and family enjoy the meal that my team and I had worked so hard on!
Are there any experiences at U of G (academic or otherwise) that really shaped your career focus?
The Beverage Management course really opened my eyes into wine tasting and how beverages can be paired with certain foods. We learned about pairing everything from coffee, wines, beer and liquor. It was my first real structured wine tasting experience. What I learned in that class is now what I do every day with my business.
Also, working for the renowned Donna Dooher and Kevin Gallagher at the Mildred Pierce Restaurant & The Cookworks, now known as Mildred's Temple Kitchen, was a highlight for me. Donna came to campus as the Executive-in-Residence during my degree to pass on her industry knowledge. I guess I impressed her enough that she hired me as a Chef Instructor at her cooking school. I later became their restaurant dinning room manager just a few years later, before my big move to Bordeaux, France.
What has been the highlight of your career thus far?
Finishing at the top of class in my MBA at Bordeuax was definitely a highlight. I was able to live in France for 4 years, which really opened my eyes to a new world of wine and culinary experiences. I had the chance to work with some amazing winemakers and brokers during an internship with Maison Sichel, who took me under their wing.
My company also received an Elsie award from the LCBO for the Best Food and Drink Promotion in 2018. I really take pride in that and it's nice to be formally recognized by our biggest trading partner.
What insight do you have for students looking to enter into the hospitality industry?
The hospitality industry is fast paced, fun and collaborative. To succeed in the industry, you need to be able to work with a lot of different people with different responsibilities. Above all else, you need to have a personality, especially within the hospitality and beverage management world.
Lots of people think the hospitality industry is only for restaurant and hotel managers, but the reality is that there are lots of related industries and opportunities you can get into from there. For me, the Wine Importing and Distributing industry really spoke to my passions in life – good business, great wine and travel. My advice to students would be to explore your passions!