PhD in Economics

---
Lang's PhD in Economics program will prepare you to become an independent and skilled researcher, in preparation for a career in academia, public or private sector. As a student in the program, you will benefit from learning and conducting your own research beside some of the world's most renowned economists and leaders in financial economic theory. Our faculty currently rank in the top 4% of the world for research output in economics, according to Research Papers in Economics (RePEc). The program's course offerings cover a broad range of topics in theoretical and applied economics.
The Department of Economics and Finance has a faculty complement of 27, with teaching and research interests across the entire range of economic and financial analysis. PhD Candidates may write a dissertation in any of the areas of expertise of the graduate faculty in the department. For information on recent PhD thesis and job placements visit the Department of Economics and Finance website.
---
Program timeline
The PhD in Economics program consists of six core courses and six elective courses covering microeconomics, macroeconomics and econometrics. Core courses are followed by a comprehensive examination in economic theory. Students will then complete a qualifying research paper. The remainder of the program is devoted to the completion and defense of a full doctoral dissertation.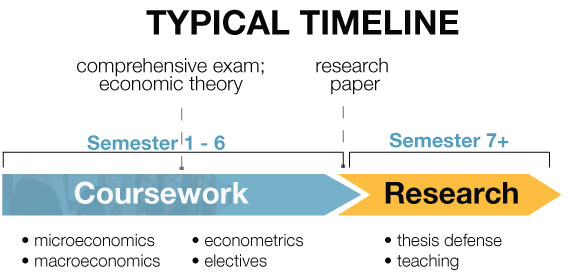 ---
Meet our students
Graduates of Lang's PhD in Economics program are well-regarded within academia. Many hold faculty positions at institutions across North America, including: University of Toronto, University of Waterloo, Auburn University, Carleton University, Ryerson University, St. Mary's University, University of Windsor.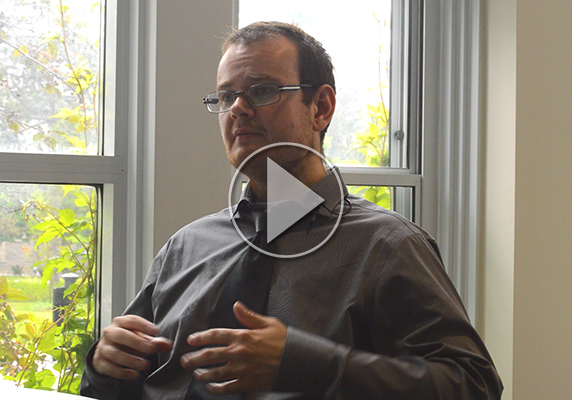 Economics PhD candidate Nick Manuel
PhD candidate Nick Manuel is using his research to help improve how the skills of Canadian immigrants are effectively utilized.
Student profiles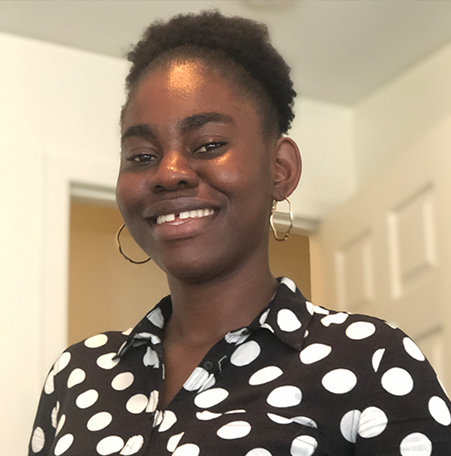 "I chose the Lang School of Business and Economics because of the seasoned faculty and excellent resources that students are privileged to have.

My resesarch will help create efficient policies that will bridge the human capital and income inequality gap."

Esther Dwamena,
PhD Economics student and Lang Scholar
Meet the Lang Doctoral Scholars
---
Meet our faculty
Our faculty are some of the world's most cited and highly regarded researchers within economics and finance. We rank in the top 5% of the world for research output in economics, according to Research Papers in Economics (RePEc).
Learn more about our faculty



Full faculty and staff list for the Department of Economics and Finance.
---
Admission requirements
Applicants must have the following:
Master's degree in Economics
Minimum A- average (first class, or 80%)
Strong supporting letters of reference (2)
All domestic and international students that are offered admission into the program are also offered financial support for four years that should be sufficient to cover costs of tuition and living. The support package will take the form of graduate teaching and research assistantships; scholarships and fellowships; and possibly instructor opportunities.
Note: Master's degrees from some countries are considered equivalent to undergraduate degrees in Canada. International students can check their credential evaluation online.
The application deadline is February 1.
---
Funding for PhD Students
Full-time PhD students are offered guaranteed financial support in their offer of admission. The funding extends throughout the program duration for all eligible semesters (generally the first 12 full-time semesters) and can include a combination of: Graduate Teaching Assistantships (GTA), Graduate Research Assistantships (GRA), Graduate Service Assistantships (GSA), scholarships and awards.
Minimum guaranteed funding for PhD students (full-time) is:
Domestic students: $21,000 per year for 4 years
International students: $21,000 per year for 4 years, plus the University of Guelph International Doctoral Tuition Scholarship for eligible students.
Please note: Additional funding is available to students in the form of competitive scholarships and additional GTA, GRA and teaching earnings. Funding packages may be adjusted if major external or internal scholarship is awarded.
---
More information
Graduate calendar | Courses | Tuition | Department of Economics and Finance
Contact us
René Kirkegaard
Graduate Coordinator
rkirkega@uoguelph.ca
(519) 824-4120 x53551