MSc – Marketing and Consumer Studies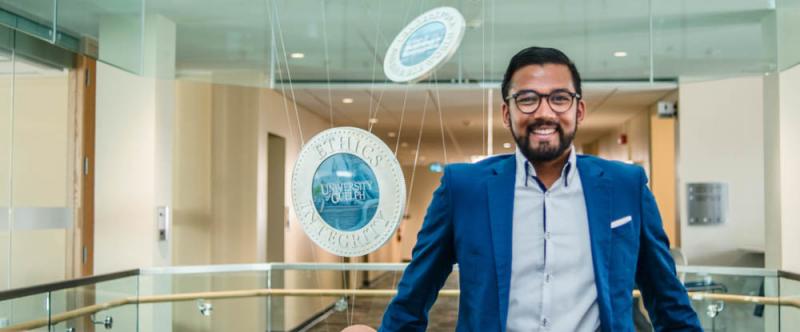 Specialize your degree and equip yourself with the skills needed to lead marketing research projects.
---
In order for a business to succeed, decision-makers must be able to understand the behaviour and trends of consumers. Lang's MSc in Marketing and Consumer Studies program focuses on examining, understanding and influencing consumers and will equip you with the skills and expertise needed to manage large-scale research projects. It will further prepare you to pursue a career in marketing, brand management, product development, market research, and consumer protection policy. The program also provides an excellent training towards the pursuit of a PhD in marketing, consumer behaviour or a related business discipline.
The MSc program draws on a variety of disciplines in marketing theory and research methods. You will complete five core courses, including consumer behaviour and marketing theory, three graduate courses in measurement and analysis, and an elective course exploring theoretical topics in marketing, which will help you develop your thesis.
"After graduation I plan on finding a job in the field of marketing research. UofG not only has equipped me with the tools to be successful in the field, but they have prepared me to be a cut above the rest of the applicants."

Caleb Sawh, MSc alumnus.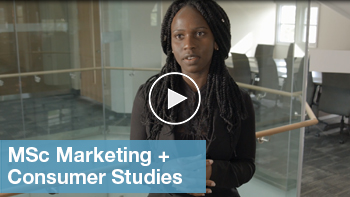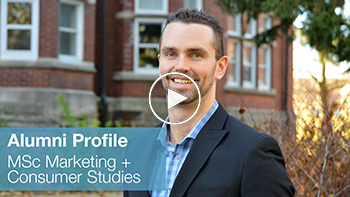 "I would like to use 'consumer behaviour' to make an impact in the field of health and nutrition. I hope this research will contribute in reducing the overweight/obesity problems among youth."
Zayed Bin Islam, MSc alumnus
Program timeline
You'll complete your MSc degree within two years. During the first year, you'll focus on your coursework and collaborate with faculty and fellow peers on research projects. You'll then be given guidance from an advisory committee to complete your research and develop a strong thesis.

Career Opportunities
Graduates of this program pursue careers in a number of unique areas in marketing, advertising and public sector, including;
Marketing research
Brand management
Marketing management
Advertising and communication
Quality management
Quality control consulting
---
Applicants must meet the following requirements to be considered for admission:
A four-year honours Bachelor's degree (or its equivalent) with at least a B average (73-75%) in the final two years of undergraduate study;

International applicants should use this guide to compare their academic credentials and determine the grade equivalency needed.

2 references, with an option for a third reference. Our preference is for academic references, but professional ones may be substituted if appropriate;
An academic background in consumer studies, the social sciences or humanities, marketing, finance, or real estate.
GMAT or GRE score. The preferred scores are 550 (GMAT) or 55th percentile in all sections (GRE). The GMAT or GRE is a requirement for all applicants.

COVID-19 consideration: We recognize that in-person testing may not be accessible due to COVID-19 protections. Both the GMAT and GRE tests are available in an online at-home format, which will be accepted on par with the in-person version. We encourage applicants to choose the format best suited to them.

Applications without GMAT or GRE scores will be considered incomplete and may not be reviewed for admission until a score is provided.

Proof of English proficiency for applicants whose first language is not English. Please note that test scores must be valid for the start of the program.

Applicants who completed a post-secondary degree from Canada, the United States, the United Kingdom, Australia, or New Zealand may request that this requirement be waived. This request will be reviewed by the graduate selection committee, who may ask for an interview and/or supplementary documentation in their consideration.
Applicants with considerable professional experience in a business or management role, who meet the minimum grade requirements but are lacking in the required academic areas may be asked to complete one or more recommended undergraduate courses in order to comply with program standards.
Application deadlines for Fall 2024 admission:
January 15 -- submission of the online application form
February 1 -- submission of all required supporting documents
To apply to the University of Guelph's MSc in Marketing and Consumer Studies, follow these steps:

Complete the online application form through the OUAC portal (this will take about an hour – save your application regularly to avoid losing your work) by listing your demographic information, academic experience, work experience and referee information.

Statement of Research: Please do not enter your statement into the OUAC online application. You will upload your statement later in the application process.
Application Fee: Your application will not be submitted until you have paid the application fee.

Following the completion of your online application, you will receive an email from the Office of Graduate and Postdoctoral Studies staff with login information for the University of Guelph's WebAdvisor portal. Please note that access to WebAdvisor will be granted within a few business days, but may take up to 5 days during peak periods.
Upload the necessary application documents (see below) to WebAdvisor. All documents, including references, GRE/GMAT scores, and transcripts must be received by the application deadline.
Monitor your email and WebAdvisor for your admissions decision. You will receive email notification when your admissions decision has been posted to WebAdvisor.
Completed online application form.
Unofficial transcripts from each post-secondary institution attended.
Two references from individuals familiar with your academic work. Reference forms are completed online by the referee directly; you do not need to upload a reference letter.
Statement of Research. This is a 1-2 page document outlining your research interests and discussing how this program is a good fit. When writing the statement of research, applicants are encouraged to investigate faculty research interests and publications to find whether there is alignment. Admissions priority will be given to applicants who demonstrate strong synergies with faculty in their statement of research.
GMAT or GRE score. You will not be able to upload this score to WebAdvisor. Email a copy of your test taker score report to the Graduate Program Assistant and arrange for an official copy to be sent to the University using the following institution codes:

GMAT: BHN-71-75.
GRE: 0892

A current copy of your CV or resume.
Proof of English Proficiency if English is not your first language. Please upload a copy of your results and use school code 0892 to send an official copy to the University.
Note: when uploading documents to WebAdvisor, you will have 5 minutes to replace an uploaded document if you wish to (e.g. if you've uploaded the wrong document). Adding, changing, or deleting a document after the 5-minute window can be done through this link https://uoguel.ph/ogpsapplicationdocumentrequest.
Faculty research explores the following topics:
Consumer preferences and decision making
Consumer well-being
Public policy
Marketing management & strategy
Innovation adoption
Advanced research methods
Brand strategy
Social media marketing
Real estate & housing
Fall Semester:
MCS*6000 [0.50] Consumption Behaviour Theory I
MCS*6050 [0.50] Research Methods in Marketing and Consumer Studies
MCS*6100 [0.50] Marketing Theory
MCS*6950 [0.00] Marketing & Consumer Studies Seminar
Winter Semester:
MCS*6060 [0.50] Multivariate Research Methods
MCS*6080 [0.50] Qualitative Research Methods
MCS*6950 [0.00] Marketing & Consumer Studies Seminar
note: MCS*6950 is taken during each semester of full-time graduate study until graduation
1 of the following restricted electives
MCS*6010 [0.50] Consumption Behaviour Theory II
MCS*6120 [0.50] Marketing Management

Electives are chosen by the graduate student with the approval of the Graduate Program Coordinator and his/her advisory committee. Any Social Science Graduate level course may be substituted for the Elective.
For more information on this program, contact us at:
Graduate Program Assistant
mcsmsc@uoguelph.ca