Crop Science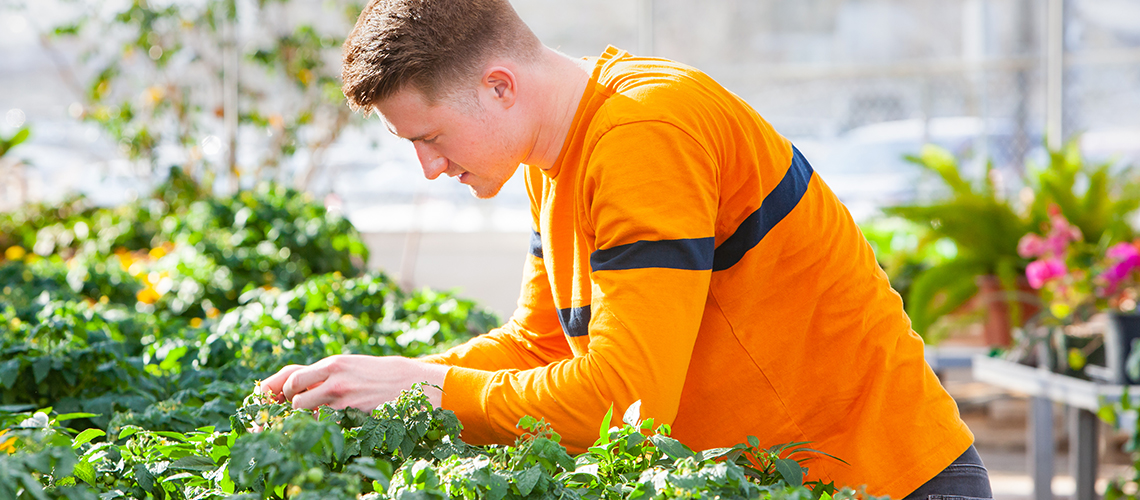 Propose solutions to production challenges and improve agronomic cropping systems.
The Crop Science major of the Bachelor of Science in Agriculture degree program is designed for students who want to apply the latest scientific advancement to solving current problems in agronomy and cropping. This is the major for you, if you want to focus on the production of field crops for food, fuel or biomaterials, and breeding improved crop varieties.
You will also have the option to learn through a variety of field trips, experiential learning in the workplace and independent study projects. Graduate with knowledge in genetics and biotechnology, biochemistry, crop protection, crop physiology, crop ecology, economics, and soil science.
This new major, offered and administered by the Department of Plant Agriculture, replaces the previously offered Crop, Horticulture and Turfgrass Sciences (CHATS) major. You may also be interested in the Horticulture major.
Admission Requirements
Ontario secondary school students applying to the program require English (ENG4U), Advanced Functions (MHF4U), 2 courses from Biology (SBI4U), Chemistry (SCH4U), Physics (SPH4U), and 2 additional 4U or 4M courses. Students that are mature, transfer, or applying from outside Ontario should visit the admission requirements page to learn about their requirements.
Learn More
Join us on October 27 for our Online Plant Program Information Night, to learn more about OAC's plant programs. This event will include a program presentation and panel including current students, recent alumni, and faculty to answer all your questions!
Learn more and register for the Online Plant Program Information night here.
Unique Courses
Cropping Systems
Precision Techniques for Plant Agriculture
Tropical and Sub-Tropical Crops
Protein and Oilseed Crops
Managed Grasslands
Grain Crops
Full course descriptions and a listing of all courses, can be found in the Undergraduate Calendar.
Career Opportunities
Agricultural consultant
Agronomic advisor
Crop production specialist
Pest management specialist
Plant breeder
Research associate
What Students are Saying
Sometimes the best way to learn about a program is through meeting a current student. Meet them here:

"The best part about my program is the people! With everyone having a similar interest in agriculture, there is always lots to talk about and you are constantly learning from one another." - Gloria Walch, CHATS student
Learn about other student experiences through the following student profiles:
What Grads are Doing
Want to know what types of exciting careers our graduates have? Meet Meagan Griffiths:

"A main part of my role is to oversee our crop scouting program. This involves training and guiding university students who are my eyes in the fields and following up with reports that come from their findings and the making recommendations to our customers. In the off-season, I also deal with yield data cleanup, zone management, soil sampling and create variable rate prescriptions for inputs such as lime, seed and fertilizer." - Meagan Griffiths, Precision Agronomist
Learn About the Perks
Questions
Our OAC Student Liaison team is here to help! Have you applied to or are you considering this program, but have some questions? Find answers to our most frequently asked questions here.
Still have questions/inquires? Ask us! Our team of program experts will happily answer your questions or direct them to the people who can. Ask your questions here.