Meet Sophie Van den Borre - a future certified crop advisor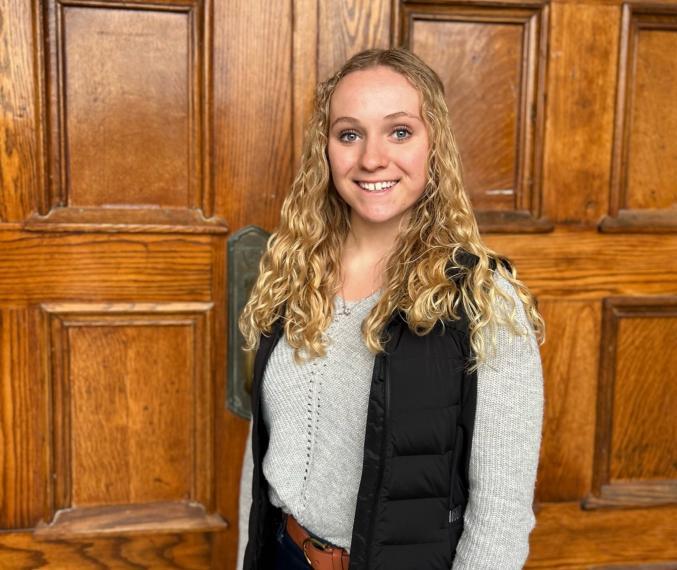 Over the summer, Crop Science student Sophie Van den Borre and her team participated in the National Weeds Science Contest in Tennessee, placing 1st in the undergraduate portion of the competition. The U of G team, consisting of undergraduate and graduate students prepared for months and studied and refined their skills on weed ID, herbicide symptomology, sprayer calibration and farmer-problems solving. The only Canadian team at the competition, the U of G students competed against teams from Penn State, Cornell, Ohio State, NC State, Auburn, Louisiana State, Wisconsin, Kansas State and UC Davis.
Sophie, an aspiring crop advisor, talks about her experience below:
Name: Sophie Van den Borre
Program: BSc in Agriculture, majoring in crop science, plus business certificate
Hometown: Burgessville Ontario
What career are you pursuing?:
"I am preparing to become a CCA (Certified Crop Advisor) and work within agronomy and crop protection industry."
Tell us about your experience at the National Weeds Science Contest:
"My experience in participating at the National Weeds Science Contest was great! It was fun, but it was also a lot of work. There were a few months of preparation leading up to the contest where we'd study the list of potential weeds we'd be quizzed on, herbicides groups, sites of action, active ingredients, and sprayer calibration math. Furthermore, we would also practice how to conquer "farmer problems" and a training on how to use and walk with the backpack sprayer.
Did you enjoy your experience traveling to the USA?:
"The travel experience was fun! We took a bus down to Tennessee, so it was 2 days of driving to get there. It made for time to study together and ask questions to one another in preparation for the contest. Once we got to Tennessee it was very interesting to see how different it was compared to Ontario. They grow different crops there and it was much hotter than Ontario. One of the different crops they grow was cotton!"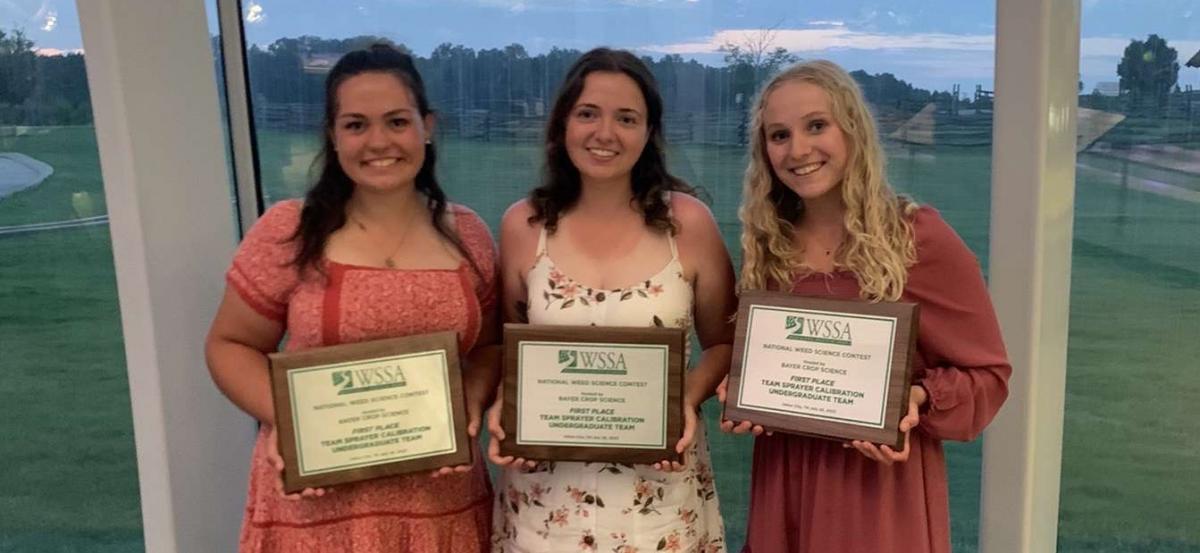 How did faculty help you prepare for the competition?:
"Our coach Francois Tardiff was very helpful and always willing to answer any questions. He was very supportive towards every individual's background experience and whether you were a grad student or an undergraduate. He encouraged everyone all the same regardless of experience.
My team placed first in the team sprayer calibration event! We received a score of 100%, beating all undergraduate and graduate teams at the competition. This event consisted of selecting the correct nozzles for the 2 meter boom, calculating the walking speed to spray the desired rate, and adjusting the pressure accordingly on the carbon dioxide canister. 
Our team's main strategy was to divide and conquer. You only have 20 minutes to complete everything, which to us did not feel like 20 minutes. The time goes very fast when you're trying to get everything set up. However, we stuck to our plan, worked together, and got it sprayed properly just in time!
How has this experience helped you in your career goals?:
"I do believe this experience has built my confidence and skill set for my future career. My future career will involve tackling real life farmer problems, weed ID, knowing herbicides, groups, and active ingredients and how they work is very applicable. It overall has also exposed me to what's to come in my future in agriculture."
What's the best part about studying at OAC?:
"I think the best part about studying the BSc in Agriculture program under the OAC is the people. Professors are very helpful, and the students help each other out. People always say the OAC is a family and I agree. Upper year students and OAC faculty steer you in the right direction and if you are stuck, there's help all around you. Hands down some of the best people I have ever met! In addition, the courses beyond the basic science courses are very enjoyable. They have classes geared towards different sectors of agriculture, in which everyone finds what they enjoy."
Share this page
News Topics