Meet Kelly, crop science student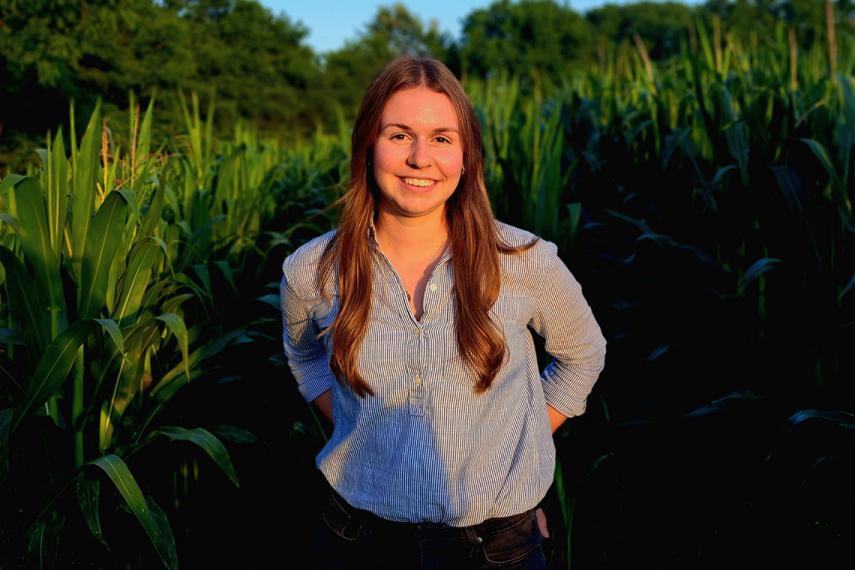 Kelly is a 4th year crop science student who discovered her passion for plants while studying at U of G. She also discovered a network of supporters, friends and mentors within the OAC community.
Name: Kelly Ruigrok
Program: Bachelor of Science in Agriculture – Crop Science
Hometown: Dunnville, Ontario
Year of Study: 4th year
---
Why did you decide to study at U of G / crop science?
I visited U of G on a Fall Preview Day with a friend and I fell in love with the campus atmosphere. At this time, I didn't know what I wanted to study; I just knew I was interested in science and the environment. I discovered that Guelph offered a B.Sc. in Agriculture so I asked current students about their experience and listened to a presentation about the program that day. Everything just clicked and I knew that this was the program for me. I haven't looked back since.
What do you like best about your program?
The networking opportunities and social atmosphere is very present in the OAC. I feel very connected and supported by current students, professors, staff, and alumni. There are numerous events throughout the year that allow you to meet new people and develop your professional relationship network. I've also had the opportunity to meet many industry professionals during guest lectures that have inspired me and guided me on my career path.
I also love how flexible my program is for all the people who are uncertain or indecisive about their future. The first year is undeclared and you get a taste of all aspects of agriculture from plants to animals to business. This allowed me the time to ease into the program and discover that crop science is where my true passion lies.
In what ways are you involved on campus?  
I remember in my first year of school I was surprised by how many clubs and events there are for students to be a part of. There really is something for everyone. I am actively involved on the Student Federation of the OAC (SFOAC) and the University Senate. These have been fantastic leadership roles and have allowed me to develop my soft skills. I am also actively involved in the Soil and Crops Club and College Royal, which are incredible ways to learn, teach, and advocate for agriculture.
Do you have a favourite class or professor?
I have come across many great professors and classes during my time at Guelph. My favourite professor is Dr. Katerina Jordan, and her class Biological and Cultural Control of Plant Diseases has been my favourite of my university career. This class as very research based, and it immersed me into the world of academia and scientific writing. I learned a plethora of new things from plant disease management to how to read and dissect a scientific journal effectively.
What residence did you live in during first year?
I lived in the Aggie Cluster in Addington. I feel incredibly blessed and fortunate to have experienced living in an academic cluster. I met my friends there and they have been beside me throughout university.
Where is your favourite spot to hang out on campus? 
The Aggie Lounge in the basement of Johnston Hall is always a great spot to meet up with friends and study. If I'm looking for a hardcore study space, then the Library never fails.
What is an unforgettable university experience you've had? 
The day I received my Aggie leather jacket in my first year of school. It is a symbol of the rich history that created the OAC and the potential for what I can do to make the most of myself here. The OAC has changed my life. It astounds me how many doors with networks of new people and opportunities I have come across during my time here. There isn't a day that passes by where I don't feel incredibly lucky and extremely grateful for this beloved "college on the hill". I aspire to give back to the Aggie community and to keep its reputation going strong.
What is a hobby/activity that makes you happy, or relieves stress?
I'm passionate about food and all things culinary. Something about putting the edge to a cutting board takes the edge off me.
What are your plans or goals after graduation?
I'm really excited to be continuing my time here at U of G to pursue an M.Sc. in Plant Agriculture.
What piece of advice would you give to your high school self?
Get involved! Starting university is like starting a fresh chapter, so don't be shy and immerse yourself in all that it has to offer. Don't let your workload get in the way of all learning that comes along with the experience. University is a great time to learn in classes as well as learn about yourself. Also, don't sweat the small stuff. If it won't matter to you in a month, then don't stress about it now. Just remember, you are working hard to achieve something you are proud of. Your grades do not define you, but what you make of your time here at Guelph influences the connections you have and what you pull out of this experience.
What's one fun fact about yourself?
I have a huge travel bug and I hope to visit every continent someday.
Share this page
News Topics