PhD in Management

---
With the University of Guelph's PhD in Management program, you'll explore complex challenges in modern business management and scholarship, and develop relevant research within one of three unique academic fields in which the University has a distinct strength - marketing and consumer behavior, services management and organizational leadership. Throughout your time here, you'll be conducting innovative and relevant research, presenting your ideas at conferences, writing papers for journal publications and networking with peers from other universities.
Choose one of the following academic fields:
---
Marketing and consumer behaviour
Understand the basis for consumer purchasing patterns and the development of marketing strategies.
Consumer preferences and decision making
Consumer well-being and public policy
Marketing management and strategy
Innovation adoption
---
Services management
Investigate management disciplines and challenges within the tourism, hospitality and food services sector.
Sustainable tourism management
Place branding
Food consumption and waste
Supply chain management
---
Organizational leadership
Develop research concentrations from leadership and management challenges facing private and public organizations.
Social identity in organizational change
Leadership and psychological capital
Leadership in multi-sector collaborations
Fairness and unfairness in organizations
---
Program timeline
This PhD program consists of six semesters of coursework within the first two years. Students take five core and six field courses along with one teaching course and a subsequent qualifying exam. The remainder of the program is devoted to completion and defense of a full doctoral dissertation.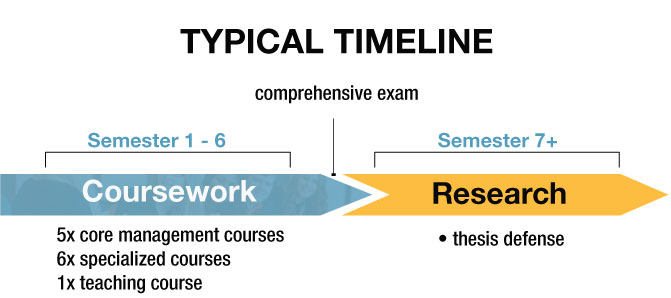 ---
Meet our students
Graduates of the PhD in Management program come from a diverse mix of academics and backgrounds.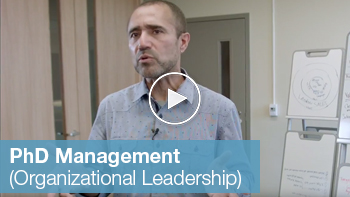 Organizational leadership video
PhD Management candidate Ruben Burga and professor Jamie Gruman talk about the organizational leadership field.
Student profiles
---
Meet our faculty
Our faculty are a vibrant, engaged group of researchers, who have conducted industry-changing research within their chosen field.
Read more about our faculty



Full faculty and staff list for the College of Business and Economics.
---
Admission requirements
A recognized master's degree in a management field with an average standing of at least "B+"
Acceptable GMAT or GRE Score (Minimum Scores - GMAT: 600; or GRE: 60th percentile)
Proof of English proficiency if it is not your first language. Read more.
The application deadline is February 1.
---
More information
Graduate calendar | Application checklist | Courses | Tuition

Contact us
Graduate Program Assistant
mgmtphd@uoguelph.ca