■ Home
Welcome to the new look of the Tachinidae Resources website. After ten years on the Internet, it was time for a change. Here you will find the same resources as before, with new ones in development. Check out the drop-down lists from the menu bar above to see what is available on this website.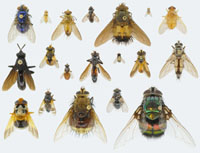 If you do not know much about tachinid flies, then go to Overview under About Tachinids to find out about their fascinating life habits (their maggots live inside other insects!), morphological diversity, distribution, and classification.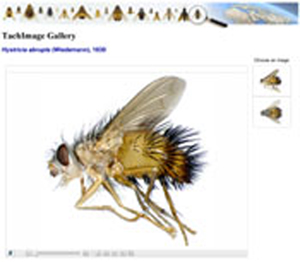 An actively growing area of the website is the TachImage Gallery, accessible under World Tachinidae. Here are offered images of a wide variety of tachinids, all zoomable for a closer look. The specimens have been authoratively identified and are almost entirely from the Canadian National Collection of Insects in Ottawa.
Newly added in late April 2017 is a comprehensive Host Catalogue of Palaearctic Tachinidae by Hans-Peter Tschorsnig of the Staatliches Museum für Naturkunde in Stuttgart, Germany. This catalogue of 480 pages was compiled over many years and lists the known hosts of 827 tachinid species. Included are records from the literature and unpublished sources, as well as corrections to erroneous published records. The catalogue is listed under "World Tachinidae" on the menu bar above.