■ Taxonomic and Host Catalogue of the Tachinidae of America North of Mexico
This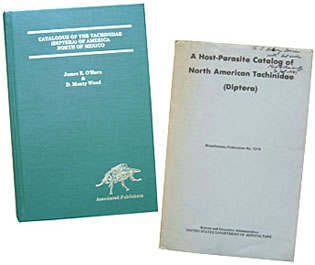 is the homepage of a series of web pages that provide taxonomic and host information on the species of Tachinidae (Diptera) of America north of Mexico. The Taxonomic information is based primarily on the published catalogue of O'Hara and Wood (2004) but has been updated to include several more recent works and is current as of the date at the bottom of the page. The host information is from Arnaud (1978) and has not been updated, although the tachinid names in that work have been modernized elsewhere on this website (see Update of Tachinid Names in Arnaud 1978).
The classification given here recognizes 304 genera and about 1350 species of Tachinidae in American north of Mexico. This online catalogue will be updated periodically to reflect published changes in tachinid classification.
Cited sources:
Arnaud, P.H., Jr. 1978. A host-parasite catalog of North American Tachinidae (Diptera). United States Department of Agriculture. Miscellaneous Publication 1319: 1–860.
O'Hara, J.E. and Wood, D.M. 2004. Catalogue of the Tachinidae (Diptera) of America north of Mexico. Memoirs on Entomology, International 18: iv + 410 pp.
Click this link to read the original abstract and introduction to O'Hara and Wood's (2004) taxonomic catalogue, including information about format, collections, geographic coverage, classification, and excluded species.
Click here to see a list of the references cited in this online catalogue. This list is an updated version of the References cited by O'Hara and Wood (2004).
I sincerely thank all who helped with the preparation of the published catalogue. Click this link to read the original acknowledgements. I am especially grateful to Shannon Henderson for construction of the web pages of this online catalogue.
Using the Catalogue
The web pages of this catalogue can be navigated in two ways:
(1) Search the catalogue index
Click this link for a full listing of all the valid genera and species in the catalogue, along with their synonyms. Each name links to a genus web page.
(2) Click a genus name in the list below
If you know the name of the genus web page you would like to view, then click on its link below.

Abbreviations: B. & B., Brauer & Bergenstamm; R.-D., Robineau-Desvoidy.