Honours Agriculture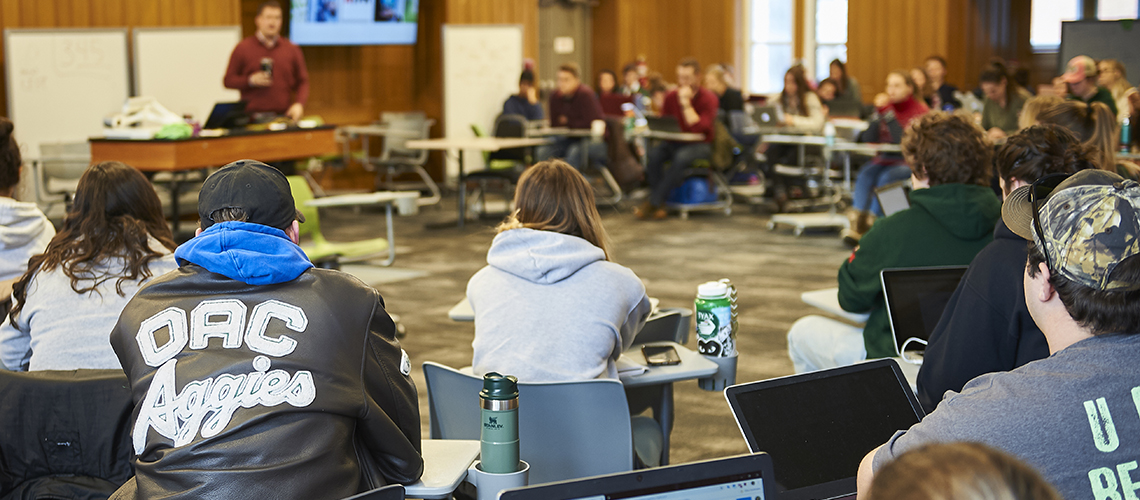 If you want breadth and flexibility in your studies, the Honours Agriculture major of the Bachelor of Science in Agriculture degree program may be for you. You'll take a core curriculum of agriculture and food-related courses and with the help of your advisor, choose courses to prepare you for the career of your choice. You'll be able to integrate courses from a number of disciplines. You can choose to specialize or keep your program flexible.
Unique Courses
Agroecology
Soils in Agroecosystems
Economics of the Agri-Food System
Field Course in International Agriculture
Fundamentals of Plant and Animal Genetics
Full course descriptions and a listing all courses, can be found in the Undergraduate Calendar.
Career Opportunities
Agronomist
Agriculture consultant
Agricultural Technologist
Horticulturalist
Market Research Analyst
Government regulator/advisor
Agriculture journalist
What Students are Saying
Sometimes the best way to learn about a program is through meeting a current student. Meet them here:

"I was looking for a good university to study agriculture and I found one of the best and most welcoming ones in Guelph... I get to study food production and its relationship with the environment. I love food, but its production can be harmful to the planet. Learning about the different bio-relationships is very intriguing."-Abdou Fall, honours agriculture student
Learn about other student experiences through the following student profiles:
What Grads are Doing
Want to know what types of exciting careers our graduates have? Meet a few here:

"Just like a farmer, it's different every day. So each morning I have a list of to dos on my desk and prioritize what needs to get done that day. The winter time allows us to modify and improve the brewery. When I'm not brewing or farming, we are always tweaking the brewery to make it better or planning for expansion. "-Daniel MacKinnon, Brewmaster
Learn about other alumni through the following profiles:
Learn About the Perks
Questions
Our OAC Student Liaison team is here to help! Have you applied to or are you considering this program, but have some questions? Not sure who to ask? Ask us! Our team of program experts will happily answer your questions or direct them to the people who can. Ask your questions here.