Meet Madeline, honours agriculture student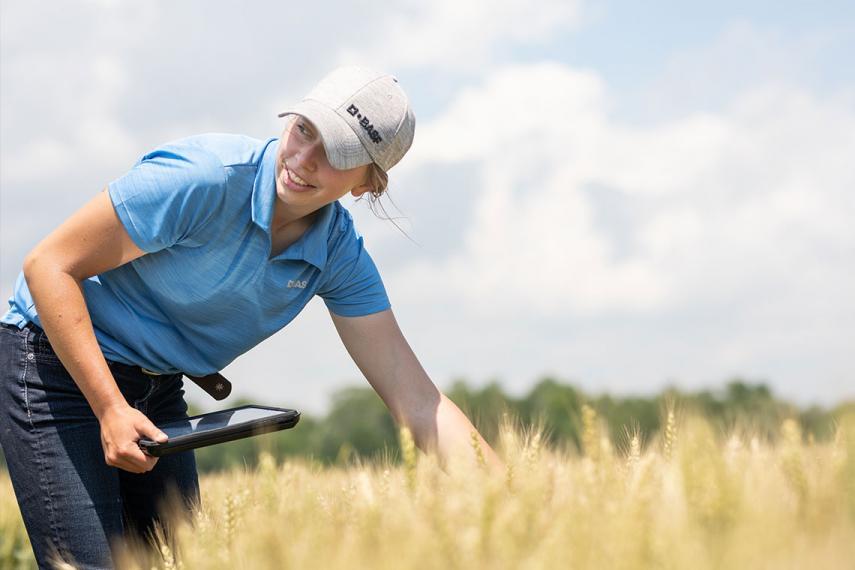 Madeline is a classic U of G "Aggie" both through her program of study and her pursuit of learning outside the classroom. She's taken her time at U of G to travel, learn, explore careers and meet people who share her interest in all things agriculture.
Name: Madeline Colville
Program: Honours Agriculture
Year of Study: 4th
Hometown: Woodville, Ontario
---
Why did you decide to study at U of G?
While I didn't grow up on a farm, I spent my entire life being submersed in the agriculture industry through family connections, friends and extra curriculars such as 4-H. These experiences helped me to find my love for agriculture, which I hope to further pursue in the future. When it came time to decide what program and university I hoped to attend, studying agriculture science at the University of Guelph seemed like an easy choice.
What do you best like about your program?
Honours agriculture is unique in regard to the course opportunities it provides. It works like a 'build your own' type program where students have a wider range of courses they can complete. It is less restricted than the crop science or animal science majors. For me, the ability to focus my degree on crop science while still having the ability to study a few animal science courses that interest me was what drew me to choosing this major.
Do you have a favourite class or professor?
Two classes really stick out as my favourites are experiential education and the special studies course which myself along with around 40 other students ran similar to Midwest Crop Tour (which was cancelled due to COVID-19). Both classes allowed me to do some out of the classroom learning and gain experience and insight into the agriculture industry outside of typical Ontario farm operations.
Did you live in residence first year? If yes, which one?
In first year, I lived in Addington in the Aggie cluster which was a great opportunity to live with other students in the same program.
What is your favourite spot to hang out on campus?
Although my on-campus time was disrupted due to the COVID-19 pandemic, I always find myself spending free time in the Aggie Lounge (basement of Johnson Hall).
What is an unforgettable university experience you've had?
'Midwest tour' and 'Alberta Bound with the OAC Beef Club' are two unforgettable experiences I had as a student. They were once-in-a-lifetime opportunities to travel Canada and the USA to tour farming operations that I may never get to see otherwise. While these two stand out the most, all OAC events are unforgettable!
What are your plans after graduation?
Upon graduation, I will be moving to Lethbridge, Alberta for six months to pursue an opportunity working for BASF Canada in technical agronomy. From there, I am hoping to continue to work in agronomy and sales in back home in Ontario.
What is one fun fact about yourself?
I am a third generation Aggie at the UoG!
Share this page
News Topics