Meet Matthew, Honours Agriculture Student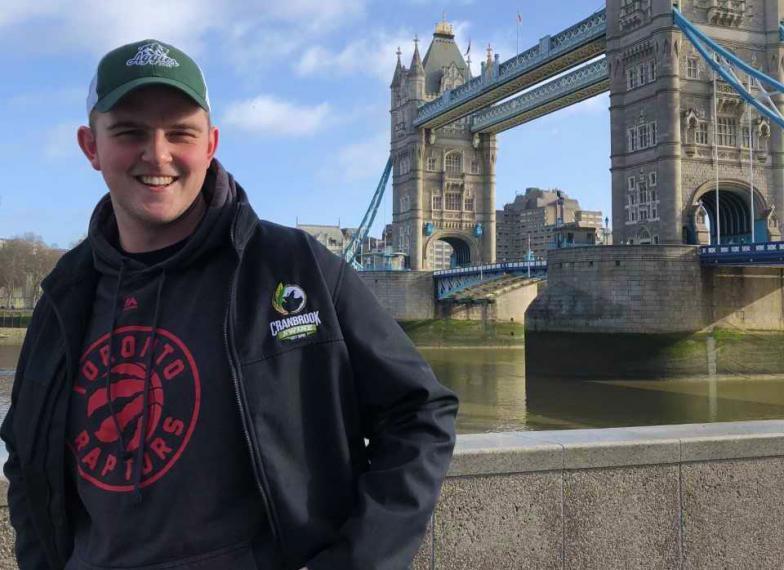 About Matthew Terpstra
Matthew is a fourth-year student in the Honours Agriculture major of the Bachelor of Science in Agriculture degree program. Passionate about experiencing everything the University of Guelph (U of G) has to offer, he has taken advantage of opportunities to study in Costa Rica and Wales. With interests in both the business and science sides of agriculture, he's paving his own path in the industry.
Program: Bachelor of Science in Agriculture - Honours
Year of study: Fourth year
Hometown: Brussels, On 
---
Why did you decide to study at the University of Guelph?
Honesty, deciding to come to Guelph was a very tough decision. It seems many of my peers knew about the opportunities the OAC and U of G had to offer, but I was definitely not one of those individuals. Like many other high school students, I wanted to try every job without having to commit to just one. Whether it was engineering, firefighting or business, I thought about careers in many different fields. Ultimately, I chose U of G and the agriculture science program due to its flexibility. U of G offers a lot of variety for students, allowing them to pick and choose courses that best fit their interests. It allows students to determine their own path instead of being restricted to a predetermined schedule for four years. 
What do you like best about your program?
The best part of the Honours Ag program is that you learn about both the business and science sides of the agriculture industry. Having many electives allows students to follow their interests. This allowed me to take part in a semester abroad and add a business minor without having to partake in extra years of school or lose the opportunity to take courses I wanted.
Do you have a favourite class or professor? 
Far and away, my favourite course was AGR 2500 with Prof. Max Jones. This course teaches tropical agriculture on different scales first-hand with a ten-day trip to Costa Rica. I would highly recommend this class to anyone! You travel through the hills and rainforests of Costa Rica while touring unique operations, including a banana plantation, pineapple and coffee operations, and small family farms.
How are you keeping busy this summer?
This summer, I am balancing being a student and helping out my family's farm. Due to going on an exchange to Wales,  my summer began a bit later, providing me with a good opportunity to complete my business minor and offer some help at home at the same time. 
Tell us more about your exchange.
Exchange is an awesome opportunity to explore other parts of the world, but it is more challenging than you'd think. It's a long time to spend away from home. Although, I would still recommend taking the opportunity. I would offer one piece of advice; treat it like you are starting university all over again. When starting my exchange, I was not prepared to become involved in new groups or activities right away. It took me almost a month to take advantage of the many trips the school had to offer. However, once you settle into your host country, it will be the time of your life. You will create many memories with other students from all over the world. I would encourage those that are unsure about going on exchange to just do it, you won't regret it.
Where is your favourite spot to hang out on campus?
I have been known to be at Brass Taps from time to time, which is an underrated spot to work during off-peak hours. 
Do you have favourite spots in Guelph?
Guelph offers a bunch of trails which provide a good break from the busy Stone Road area. It gives me a feeling of home despite being away from home. 
What are your post-graduate plans or goals?
Great question. I still have no idea what my plans are post-graduation. Hopefully, I will have a better idea of where my post-graduate life will begin during this upcoming school year. 
Knowing what you know now, what piece of advice would you give to your high school self?
I would offer two pieces of advice. Firstly, don't let school get in the way of your education. This was a piece of advice I received just before starting University, which I didn't initially understand. During your university career, there are opportunities to learn from your peers and faculty members outside of the classroom, which will teach you more than what's offered in the lecture halls. Take advantage of all the trips, events or anything that are offered; you will not regret it. Secondly, remain true to yourself. With everything changing, like your living conditions, friends, classes, and adjusting to the University education style, being true to yourself is essential. Do not try and change your personality to impress those around you, gradually you will find your place at university and those you enjoy spending time with. 
What's one fun fact about yourself?
I am brutal at cooking. I once smoked out my house while trying to make banana bread.  
Share this page
News Topics