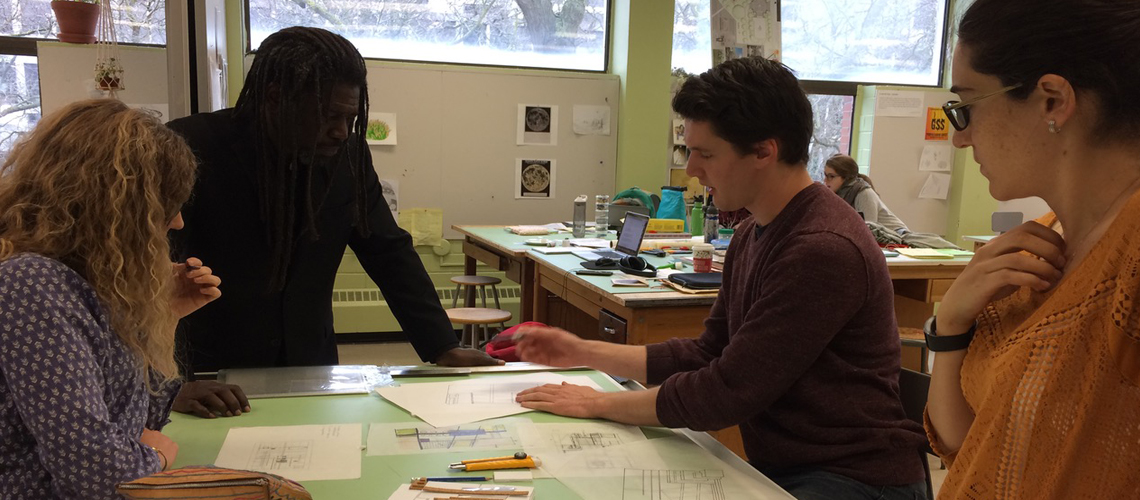 Photo:  MLA students receiving design advice from Kona Gray of EDSA Inc.
 
Landscape Architecture Mission Statement
The University of Guelph landscape architecture mission statement is to excel at comprehensive and evidence-based education, innovation and scholarship in the art and science of landscape architecture and to prepare graduates to lead professional practice into the future.
MLA Structure
The MLA degree program is delivered in-person in a full-time format at the University of Guelph campus.  The MLA program requires six semesters of full-time study over three calendar years.  Students normally register for Fall and Winter semesters each year, and request an academic break [1]during the Spring semesters in order to gain practical experience. 
MLA Theses
University of Guelph's Master of Landscape Architecture theses since 2011 can be searched via The Atrium [2], the institutional repository hosted by the University of Guelph's McLaughlin Library.  Below you will find as an attachment, the MLA thesis abstracts from the last six years.
Resources
University of Guelph Graduate Calendar [3]
Office of Graduate and Postdoctoral Studies [4]
Canadian Society of Landscape Architects [5]
Ontario Association of Landscape Architects [6]
Landscape Architecture Canada Foundation [7]
American Society of Landscape Architects [8]
Council of Educators in Landscape Architecture [9]
Council of Landscape Architectural Registration Board [10]
Find us on social media!
Instagram:  @uofg_landscapearchitecture [11]
Facebook:   University of Guelph - Landscape Architecture [12]
Twitter:  @SEDRD [13]