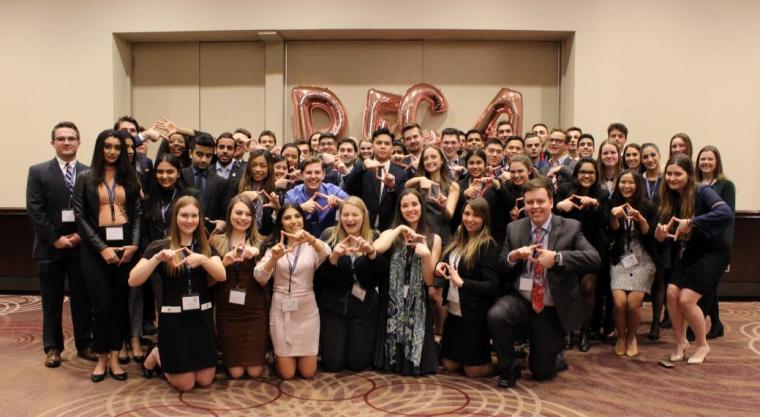 University of Guelph business students from DECA U Guelph travelled to Toronto last weekend to join more than 1,300 student delegates from across Ontario for one of Canada's largest undergraduate conferences.
The DECA U Ontario competition is their flagship event, with student delegates competing in over 17 academic case categories, including both individual and team cases.
At this year's competition, 78 student delegates represented the University of Guelph and had an incredible showing, bringing home 10 awards from the competition. Among their success across the competition's different categories, U of G delegates placed first in the Quiz Bowl and the Stock Pitch, the first time U of G delegates have placed first in these competitions.
A complete list of their wins and awards over the weekend include:
1st in Quiz Bowl | student delegates: Carlos Alvarado-Melgar, Harris Whiting, Matthew Martin, Josh Vito)
1st in Stock Pitch | student delegates: Dhruv Mehta, Rahul Singh, Arjun Bhandhoal, Adrian Marcolini
2nd place in Simulation Case | student delegates: Hayden Fox, Sarah Hendriks, Ujaini Muralitharan)
2nd place in SEED | student delegate: JP Gleason
2nd place in Human Resources (and top 5 in both Oral Presentations) | student delegate: Emily Kaldis
Top 5 for Sports and Entertainment | student delegates: Alexis Chomiak and Madison Boyack
Top 5 for Accounting Oral 1 | student delegate: Rehan Panjwani
Top 5 for Restaurant and Food Service Management Oral 1 | student delegate: Carlos Alvarado-Melgar
Top 5 for Restaurant and Food Service Management Oral 2 | student delegate: Jacqueline Simard
Top 5 for Travel Oral 2 | student delegate: Harris Whiting
"It was my first year doing DECA and it was a lot more than I expected," said Katelyn Cortina, who competed in the provincials for the first time. "I was able to meet a lot of people and received a lot of great feedback that I can use in the future."
U of G student delegates are now focused on what they hope comes next for DECA U Guelph: attending the international competition in Orlando, Florida.
Congratulations to DECA U Guelph on another incredible year at DECA U Ontario!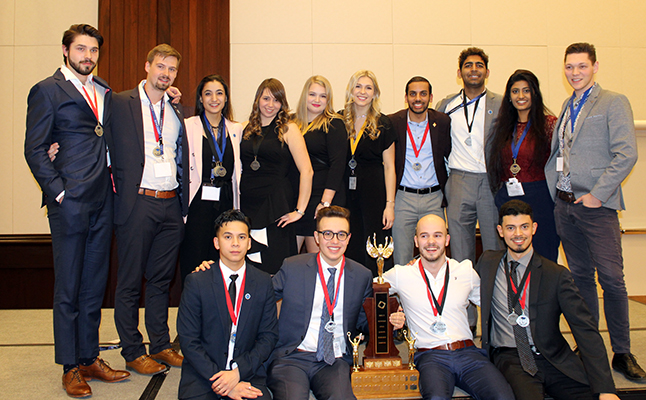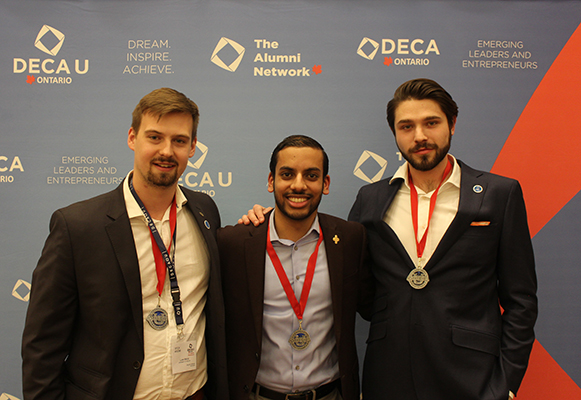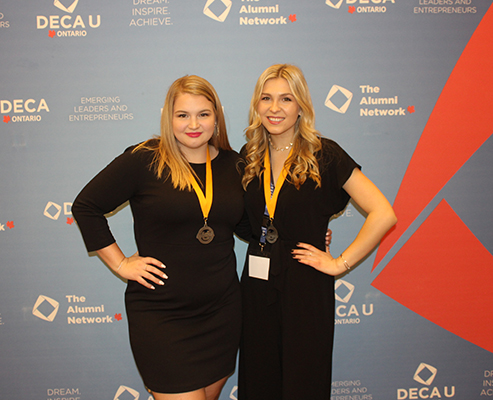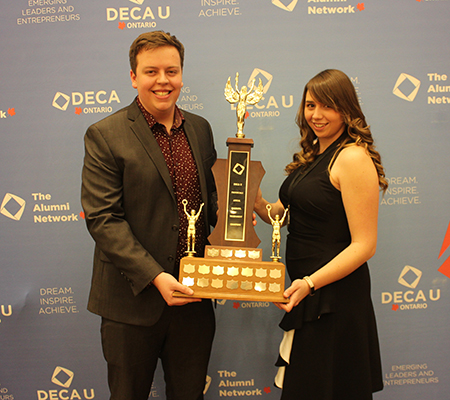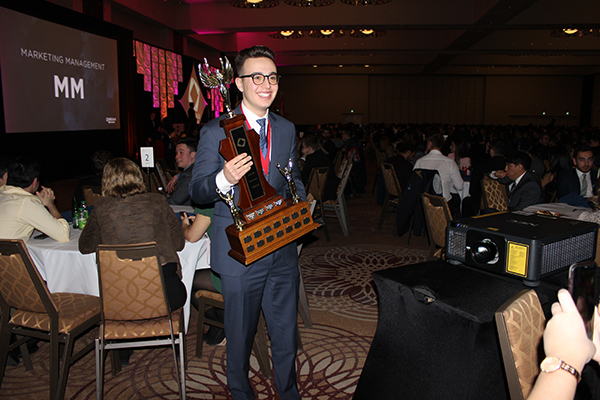 ---
The successful weekend at DECA U Ontario comes on the heels of an impressive start to 2019 for University of Guelph Business students. In addition to the success at the DECA provincials, U of G business students have found the podium at a number of other case competitions in 2019 already, including: the Organizational Behaviour Case Competition [2], Battle on Bay [3], and JDC Central [4].