Another impressive podium finish for Guelph business students at undergraduate finance competition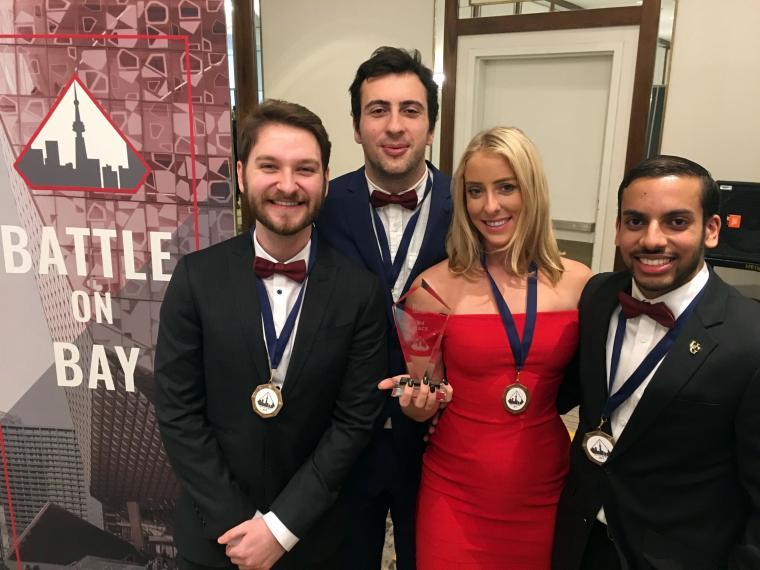 U of G business students from the Guelph Student Investment Council (GSIC) attended Battle on Bay 2019 over the weekend, an undergraduate finance competition hosted by the Ryerson University Finance Society.
Attending the competition for the first time, University of Guelph's GSIC students had an impressive showing that saw them place third overall, taking home a $1,000 prize.
The team consisted of:
Christian Brownlee | 5th year Management Economics & Finance (co-op)
Haley Debruyne | 4th year Management Economics & Finance

Senior Equity Analyst, GSIC
Brand Ambassador, CBESA

Donangelo Volpe | 4th year Management Economics & Finance

Senior Equity Analyst, GSIC

Ryan Padum | 5th year Management Economics & Finance (co-op)

Internal Manager, GSIC
Chairman, DECA U Guelph
In it's 12th year, the annual competition took place at the Ted Rogers School of Management in downtown Toronto. The GSIC team placed third behind Goodman School of Business (first place) and Ivey Business School (second place).
"We are incredibly proud of our students' impressive podium finish," said Dean Julia Christensen Hughes. "Their performance is another example of Guelph business students' ability to compete with business schools across the country and beyond."
The conference's competition was broken down into two rounds. The first-round tasked groups with a total company analysis of Spin Master, looking at the company as they compete in the toy industry and world of retail management. Round two involved a 90-minute crisis case, where groups had to analyze a potential merger/acquisition deal.
"Next year, we will be aiming for first place!" said Ryan Padum, GSIC's internal manager. "I've said it before, and it can be said again today: U of G business students continue to go up against other business schools, showing that we can compete with them all."
The conference ran from Thursday to Sunday, with several networking events in addition to the competition.
---
The Guelph Student Investment Council is a finance club on campus that runs a concentrated portfolio operating in the small and mid-cap North American market. Through a recent donation from Fidelity Investments Canada, the finance club received $100,000 to invest in the stock market.
Share this page
News Topics