High School Student Liaison
The OAC Student Liaison Program supports secondary students and educators through in-class workshops, on-campus experiences, online teaching resources, and participation in professional development days and conferences for educators.
We showcase the educational and professional opportunities that exist within the areas of agriculture, and food and environmental sciences, community development through unique experiential learning opportunities. Explore the countless opportunities for students through one of our tailored offerings.
Meet Michelle, FAB Student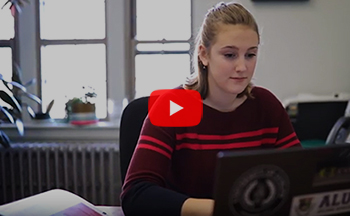 Michelle Ragany is a second-year student in the University of Guelph's food and agriculture business (FAB) program. She discovered her undergraduate program in high school when attending a Specialist High Skills Majors event hosted by the Ontario Agricultural College Student Liaison Program.
Now she works with the OAC Student Liaison Program to showcase the opportunities available in food and agriculture sectors and share her love of business with current high school students.
About OAC
Established in 1874, the Ontario Agricultural College is one of seven colleges that make up the University of Guelph. OAC is a globally recognized leader in education and research in agriculture, food, environmental sciences and community development. The OAC provides a wide range of academic programs at the diploma, undergraduate, graduate and certificate level. Learn more about OAC's history here.
Thank You to Our Sponsors
This outreach is made possible through contributions from the Canadian Agri-Marketing Association, Conestoga Meat Packers Ltd., CropLife Ontario Council, Grand River Agricultural Society, Guelph Food Technology Centre Legacy Fund, Monsanto, OAC Alumni Foundation, OAC Class of '53, OAC Class of '64, OAC Class of '65, OAC Class of '80 and the Student Federation of the Ontario Agricultural College.