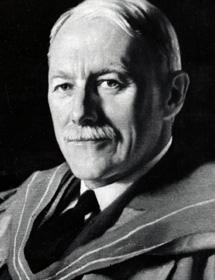 About
When W.R. Graham was growing up in eastern Ontario, poultry was a farm sideline or hobby for fanciers who bred birds for ornate plumage only. Against his family's advice, he was drawn to chickens instead of dairy cattle and attended OAC in 1890 to pursue an associate diploma. His lifelong enthusiasm for poultry inspired him to become a loved and respected teacher until his retirement in 1940.
"Are you sure the chickens read the textbook?" – W.R. Graham in reply to a student's complaint that a chicken was not doing what the textbook said it would.
Graham maintained a dynamic program of scientific research, which transformed poultry into a profitable part of mixed farming at a time when applied agriculture was emphasized at OAC. In 1899 he became a lecturer and head of Poultry Husbandry until 1908 when he became a professor of poultry husbandry.
Throughout his career, Graham directed his research toward poultry as a source of income. He developed the Barred Plymouth Rock, a general purpose bird possessing three distinctive qualities – egg laying ability, meat quality, and good appearance. He distributed their eggs to schoolchildren for showing at school fairs; this was also a method of demonstrating an innovation to parents who were unconvinced that chickens could be profitable. He established Ontario Breeding Stations to maintain purebred flocks and supply eggs, which were subsequently imitated across Canada. He was the first to install electric lighting in hen houses at OAC to ensure year-round egg production.
Graham also studied poultry nutrition and developed special diets for chicks and laying hens. In fact, feed suppliers at the time commonly referred to standard OAC recipes in their advertisements. Scientists at the Hospital for Sick Children in Toronto formulated Pablum, a popular infant cereal, by replicating his formula for chick starter rations. He promoted nutrition as an important factor in animal husbandry, and in 1938 OAC created the Department of Animal Nutrition, the first such department at any Canadian institution. It eventually became the Department of Nutrition.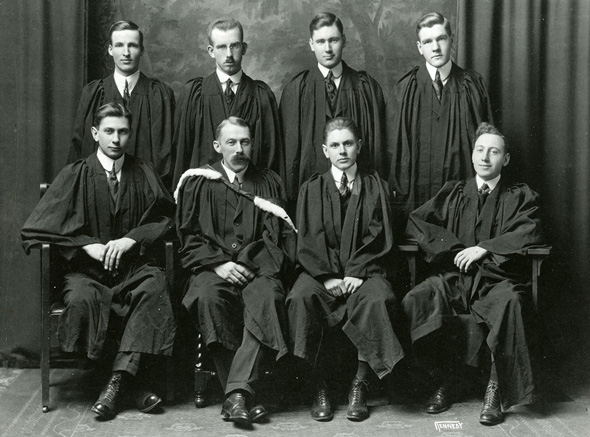 1916-17 Poultry Club Executive: Standing (L to R) - A.B. Jackson, R.W. Zavitz, A.S. McPhail, E.S. Snyder. Seated (L to R). - H.W. Neff, President, Prof. W.R. Graham, Hon. President, E.H. Parfitt, Vice President, A.J. Delamore, Sect. Treasurer
References and Further Reading
Quote reference: Reply to a student's complaint that the chicken was not doing what the textbook said it would.
Photo credit: Archival and Special Collections, University of Guelph Library
Laura Quirk, Prof. William Richard Graham: Poultryman of the Century. University of Guelph, 2005
H.D. Branion and J.R. Cavers, ""Prof" Graham – a Tribute" in Poultry Science, vol 37, no 2, 1958, 250-256
Posted on September 18, 2014