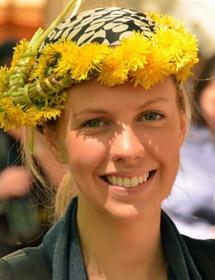 About
Vanessa Cipriani is fascinated by the relationship between human rights, feminism and environmental issues. She has a real appreciation for the natural environment and considers herself an environmental movement enthusiast. Vanessa strives to live an eco-friendly lifestyle and shares her experiences via a personal blog, Twitter account and Instagram. She is now in her final year of a Bachelor of Science in Environmental Science degree in the environmental economics and policy major.
"If we have the desire to live in a happier and healthier planet, our society needs to muster its collective courage. It will take bravery, vision and selflessness to change our attitudes and lifestyle so that we can avoid our children asking, 'Why didn't you do something when you had the chance?'"- Vanessa Cipriani
Vanessa's realization for the need to protect our planet's natural resources drove her to study environmental sciences at OAC. Since beginning her undergraduate degree she has become most interested in policy regarding environmental issues and the use of law and economics in environmental protection. Vanessa hopes to apply her knowledge after graduation in a position of leadership in politics, law or business.
Vanessa has been proactive in gaining practical experience in the workplace in preparation for graduation. She has worked at Grassroots Environmental Products in Toronto for a summer position and as a Mono Cliffs Outdoor Education intern with the Toronto District School Board as a part of the cooperative education program offered at U of G. Vanessa enjoyed teaching youth about sustainability on local ecology hikes. Vanessa has also participated in Project Serve Canada Sustainability and has volunteered at local organic farms, tree nurseries and in international communities.
Vanessa has been involved with the Environmental Science Student Executive (ESSE) for three years and is the ESSE president for the 2014-2015 school year. Vanessa also independently facilitates natural cleaning workshops that educate her fellow students about toxins found in conventional cleaning products and offers information on how to formulate their own.
Posted on September 18, 2014