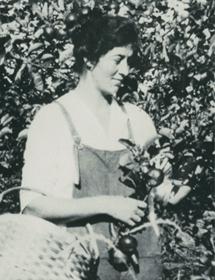 Hometown:
Port Williams, Nova Scotia
About
Susannah Chase first attended the Nova Scotia Agricultural School, and completed her studies at OAC becoming the first woman to graduate from the college with a BAS in 1921. She went on to plant the first commercial orchard in Waterloo County where, in 2012, apple growers harvested 78 acres, which yielded over 400 thousand pounds.
"By closer cooperation, keenest study of cultural methods and marketing problems, we believe there are brighter days ahead in the apple industry for those of us who are willing to work." – Susannah Steckle
Susannah Chase was the first of many young women who chose to study scientific farming at OAC, even though Macdonald Institute, with its focus on domestic science, had opened in 1903. She graduated with a specialty in horticulture.
With her father, Oscar Chase, an OAC 1882 graduate, and brothers, she managed an apple farm in Annapolis Valley. In the earliest days of settlement, most families planted a few fruit trees, mainly for pressing cider for their own use. By the late 1800s, much of the apple harvest in Nova Scotia was packed for export to England. Apples were an important part of the province's economy, but inconsistent quality and erratic supply and distribution hampered the industry. It is likely that Chase intended to apply science to improve the efficiency and profitability of orcharding in Nova Scotia when she graduated.
In 1928, she was elected the first woman President of the Nova Scotia Fruit Growers' Association (NSFGA), but in 1929, in the middle of her term, she returned to Ontario to marry John Steckle, OAC '20. Although by 1941, over four per cent of Nova Scotia growers were women, it was 2001 before another woman was elected president of the NSFGA. 
She remained active in her community throughout her life, and John and Susannah Steckle donated Steckle Woods to the City of Kitchener as conservation land in 1967.
References and Further Reading
Quote reference: From her 1928 Presidential speech, Nova Scotia Fruit Growers' Association; cited in Julian Gwyn, Comfort Me with Apples: The Nova Scotia Fruit Growers' Association, 1863-2013 (Berwick, Nova Scotia: Lupin Press, 2014), 210.
Photo credit: Nova Scotia Fruit Growers' Association Archives
Location: Blair House, Kentville Agricultural Centre, Kentville, Nova Scotia
"Susannah I. Steckle, 1898-1985", hof.overmind.ca/hof/community/
"The History of Steckle Homestead", http://www.stecklehomestead.ca/about-steckle-heritage-farm/the-history-of-steckle-homestead/

[1]
Posted on September 18, 2014