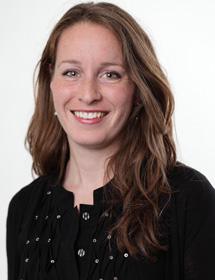 About
Robin Callaghan grew up in a farming community and had strong interests in the environment. Hoping to bring the environment and agriculture together in her studies, she enrolled at the University of Guelph as an environmental science student, but transferred into the Bachelor of Science in Agriculture program after her first semester.  
"When I said 'yes' to Guelph and OAC an hour before the deadline, I never imagined the adventures that awaited me. From weekly pub, to field course hikes, to standing in knee-deep water planting rice in China, 'never turn down an opportunity' seldom led me astray at OAC!" – Robin Callaghan
Robin enjoyed the variety of her degree. In addition to her core agricultural courses, she took a variety of classes including international development, environment and marketing.
While at OAC, Robin studied in both Oklahoma and China as an exchange student. After she and the Canadian Agricultural Communicators of Tomorrow club spent reading week at Oklahoma State University, Robin decided to study there for a semester to gain more hands-on experience in their agricultural communications program. After finishing in Oklahoma, Robin headed off on an exchange to Yangzhou, China. She spent three hours each morning learning Standard Chinese, while her afternoons were spent working alongside a professor from whom she learned about Chinese agriculture, life and culture.
After graduation, Robin obtained a position with GLOBALG.A.P.; a private on-farm food safety standard organization in Germany. A year earlier she was selected to represent the University of Guelph at the International Food and Agribusiness Management Association's conference and case study competition in Shanghai. While there, she met the managing director of the organization, who offered Robin the chance to work for GLOBALG.A.P. The organization runs the most widely recognized standard for safe and sustainable agriculture around the world, helping open new markets for farmers and ensuring safe food for consumers. Robin's main role is to oversee the development of their independent consultant program, which helps the organization increase good agricultural practices on a global scale through capacity building.
Posted on September 18, 2014