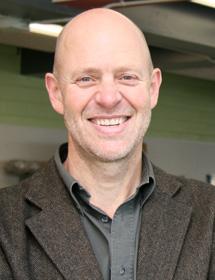 Hometown:
Swift Current, Saskatchewan
About
When Bob Brown was researching graduate studies in architecture, he discovered the landscape architecture programs at the University of Guelph. Now a U of G alumnus and current professor, his research on microclimates has been applied to farms, institutions, city parks and high rise buildings in New York City.
"Climate changes are heating things up and we have measured the impact park design has on temperature in cities. If a city is designed right, it could feel even cooler than rural areas. Getting those spaces designed correctly is the goal." – Bob Brown
After earning an undergraduate degree in physical geography at the University of Saskatchewan, Bob completed both his Master's of Landscape Architecture and PhD at the University of Guelph. In 1985 he became a professor in the School of Landscape Architecture, now the School of Environmental Design and Rural Development.
Landscape architecture blends art and science and in Bob's research he examines microclimates and how they affect human interactions and enjoyment of a particular environment. By examining data about the wind, terrain, weather and more, Bob can make recommendations on how to design a landscape for maximum enjoyment and utility.
He has helped choose building sites for hospitals to avoid winter's blowing snow, for swine farms to maximize air quality, and was consulted for a special project in New York City. The designers of the new New York Times building in Times Square wanted an urban green space surrounded by the building, and a rooftop garden 52 stories in the air. To make these spaces viable in microclimates where sun and wind would be a problem, Bob used computer models to help choose appropriate layouts and plant varieties to maximize the spaces' features. Completed in 2007, the building features a birch forest in the middle of Manhattan.
Bob enjoys sharing his knowledge with students and as often as possible he ensures his classes spend time outdoors, interacting with the landscapes they are learning about. Bob also enjoys teaching a special class on golf course design, and has visited golf courses around the world that were designed by his former students.
Posted on September 18, 2014