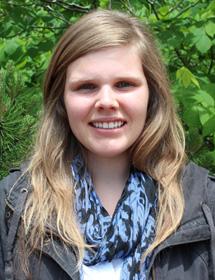 About
Rebecca Elskamp grew up on a dairy and grain farm in Woodlands, Manitoba. Her early start to agriculture led her to post-secondary education at the University of Manitoba studying agri-business and agri-economics. Rebecca has continued her education in the pursuit of a PhD to find answers to policy relevant questions and confront issues that affect the agricultural industry at the producer level.
""Agriculture is a fast growing sector of the Canadian economy that will continue to grow in importance and size as the focus on feeding the growing global population through a sustainable and viable system continues." – Rebecca Elskamp
Rebecca is drawn to a blend of education and research, which has led her to pursue her PhD in the Department of Food, Agricultural and Resource Economics with hopes of staying in academia. The choice to travel out of province to Ontario and OAC was a clear one for Rebecca due to OAC's strong reputation in agricultural knowledge and applied approach to research.
One aspect that Rebecca enjoys most about the University of Guelph is the opportunities to attend events that highlight the significance of agriculture in everyday life, such as College Royal and Project Soy. Rebecca recognizes the importance of these events in gaining general community support of agriculture and industry innovation.
Rebecca's passion for exploring issues that are impactful for Canadian farmers drives all of her research with hopes of finding answers to questions within the agricultural industry. Tracing back to her roots, Rebecca is researching the dynamics of dairy quota auctioning in Ontario. Her main focus is analyzing how bidding strategies of individual producers change across auctions in regards to bid price, quantity demand and dispersion of bids. The hope is to identify how past experiences of either gaining or losing will affect future bids, and how the big picture of bidding practices may offer an explanation for fluctuations in quota values.
Posted on September 18, 2014