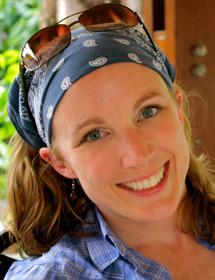 Hometown:
Langley, British Columbia
About
Nikki Whaites completed her undergraduate degree in British Columbia at Trinity Western University. While working at a career oriented magazine Nikki had the opportunity to attend the Youth Employment Summit in Alexandria, Egypt in 2002. Speaking with youth from over 120 countries about the role of communication in community development inspired her to pursue her Master's in Rural Extension Studies.
"The work War Child Canada is doing, reaching children in war and conflict affected countries, is critical. It contributes to not only ending cycles of violence but to ensuring that tomorrow's leaders have the foundation needed to both contribute to and build peaceful communities and countries; the foundations of education, opportunity and justice." – Nikki Whaites
After researching other graduate opportunities, Nikki found that OAC was the best fit for her and her research interests. Nikki chose to study rural FM radio in Ghana, West Africa for her master's degree and worked under the guidance of Prof. Helen Hambly Odame. By mapping community, commercial and government owned radio stations, Nikki was able to understand the reach of rural radio in communities in Ghana. Through her research she gained a strong sense of the significance radio has in rural communities and that community involvement in and feedback on programming will result in more effective radio programming.
Nikki is now working as the Deputy Director of International Programs at War Child Canada. Her role is to oversee program strategy and design and to look at opportunities and challenges that new programming may face.
Nikki has been able to tie her master's research directly into a current War Child pilot project. They recently launched a radio education program in the highly conflict-affected Democratic Republic of the Congo to provide a condensed education program for girls over the radio. After consulting with communities, War Child established this project to help combat the challenges that girls face attending school, including dropout rates.  They found that girls do not attend for various reasons, such as risk of girls being attacked or kidnapped while travelling long distances to school. The use of radio within their communities keeps them safe, provides them curriculum they've requested, and it also combats the sometimes nomadic nature of people in conflict-torn areas.
Posted on September 18, 2014