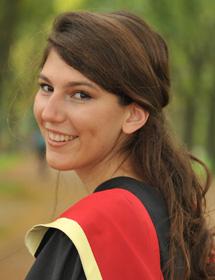 Current Residence:
Ashville, South Austrailia
About
Michelle Linington is a second-generation OAC graduate, having just completed her studies this past spring. Both of Michelle's parents attended OAC; her father studied plant science and mother in animal science. Michelle is a hybrid of both, having graduated from the Bachelor of Science in Agricultural Science majoring in honours agriculture and gaining experience in both areas.
"What excites me about agriculture, and the future of agriculture, is the quality of people OAC attracts and educates. Working with my peers during my time at the OAC showed me that agriculture is going to be in good hands." – Michelle Linington
Michelle has always been a socialite and thoroughly enjoyed being active within the U of G student community. Michelle was the OAC Class of 2014 events director and a member of the Student Federation of OAC as vice president of internal affairs in her final year. Michelle had a chance to mentor executives, contact various clubs, handle internal events and be involved with awards and elections. She also volunteered for OAC outreach events to inspire senior high school students to enroll in agricultural programs. During her time on campus, Michelle created lasting connections with people from diverse areas on and off campus, including first year students, alumni and faculty.
As a recent alumna, Michelle wants to pursue a career in dairy science but feels she needs to balance the theory and critical thinking skills she gained through her undergraduate degree with practical work experience. She knows this balance will better enable her to offer realistic recommendations as a dairy science professional in the future. To put her academic learning into practice, she is traveling to Australia to gain additional experience by working in a dairy barn through the Agri-Venture program. During her time "down under" Michelle will also have the chance to attend dairy and agricultural shows to learn more about the dairy industry in an Australian context.
Posted on September 18, 2014