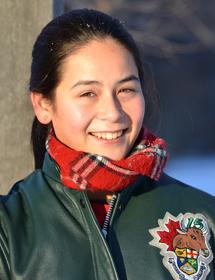 About
Growing up in an avid farming community in the Kawartha Lakes region of Ontario, Meggy Chan realized her appreciation for agriculture through a summer job on a local sheep farm. Meggy, now a fourth year Bachelor of Science in Agriculture – Animal Science student, has since fallen in love with farm life and can't imagine any future other than one filled with sheep, square dancing, and all the things that come along with farming.
"My favourite class so far has been animal physiology when we got to see and handle real specimens of each body system. My favourite classes are always the ones in which I have the opportunity to learn in a hands-on way." – Meggy Chan
Meggy's four years working on Rocky Lane Sheep Farm in Lakefield, Ontario shaped her future career path. Taking part in vaccinating, lambing, hoof trimming and several other tasks extended her basic knowledge to a thorough understanding of sheep and the production functions of a farm. The practical knowledge she gained from her position at Rocky Lane Sheep Farm has combined very well with her current studies.
Meggy originally enrolled in OAC's animal biology program with the intention of applying to veterinary college but soon transitioned to animal science when her plans for the future changed. In addition to her studies, she has pursued her interest in veterinary medicine by volunteering with the Ontario Veterinary College. In 2012 she assisted a population medicine PhD student with collecting blood samples from various flocks of sheep and goats, further broadening her knowledge base and gaining more practical knowledge.  
Meggy enjoys the variety that comes with being a farmer and looks forward to establishing her own successful sheep farming business after graduation. To support her future goals she enrolled in a Master Shepard's course this past summer.
Posted on September 18, 2014