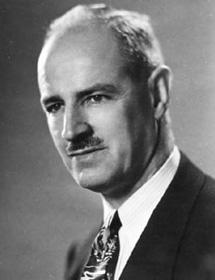 About
Grant MacEwan first arrived in Ontario by train from Saskatchewan in 1921 with a "romantic dream" of eventually doing university work. At OAC, he was a member of the 1925 champion intercollegiate basketball and livestock judging teams. His professional life was spent in Saskatchewan, Manitoba and Alberta, where he retired. 
"If you were to take people and horses out of history, there wouldn't be anything left worth talking about." – Grant MacEwan  
While he received many honours during his lifetime, MacEwan was modest about his accomplishments. He identified "purpose" as a dominant factor in his life; he was committed to shaping and celebrating western Canada.
His term as dean of agriculture at the University of Manitoba from 1946-1952 coincided with the devastating flood on the Red River in 1950. Practical concerns added to his administrative duties, and when the campus, situated at a sharp bend in the overflowing river, was closed, he spent his days feeding university livestock from a rowboat. Following the flood, he sat on the Red River Valley Board, which administered rehabilitation funds.
In 1958, the MacEwans settled in Calgary. He was leader of the provincial Liberal party when it was defeated. He returned to civic politics in 1959 and served as Mayor of Calgary for two years from 1963-1965. In 1966, he was sworn in as Lieutenant-Governor of Alberta and retired in 1974.
MacEwan's life exemplifies the pioneer experience of optimistic perseverance through challenge and reward. He "was involved in worthwhile projects", and through it all, enjoyed "the funny side of life".  His parents and younger brother farmed together, but his brother died suddenly in March 1924. MacEwan returned home by train in time for the funeral, spent the summer as a weed inspector and continued his education at OAC and Ames, Iowa. As professor of animal husbandry at the University of Saskatchewan from 1928 to 1946, he lectured, inspected herds, gave meat demonstrations, and judged at fairs.
References and Further Reading
Quote reference: Max Foran, ed. Grant MacEwan's Journals (Edmonton: Lone Pine Publishing, 1986), 148
Photo credit: "Grant MacEwan", http://en.wikipedia.org/wiki/Grant_MacEwan

[1]

Rusty MacDonald. Grant MacEwan: No Ordinary Man (Saskatoon: Western Producer Prairie Books, 1978)
Donna Von Hauff. Everyone's Grandfather: The Life and Times of Grant MacEwan (Edmonton: Grant MacEwan College/Quon Editions, 1994)
Lee Shedden, ed. A Century of Grant MacEwan: Selected Writings (Victoria: Brindle & Glass Publishing, 2002
Posted on September 18, 2014