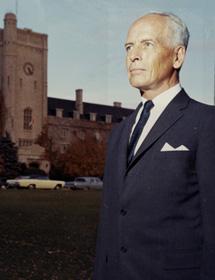 Affiliation:
Principal / President / Dean
About
John D. MacLachlan was a highly educated man, receiving his undergraduate degree from Queen's University followed by a master's and doctorate from Harvard University. He came to Guelph in 1939, first as an associate professor of botany and later was appointed president of OAC in 1950, and eventually became the first President of the University of Guelph in 1964.
"The responsibility of any university is to serve the public through higher education and by expanding the boundaries of knowledge... On the one hand, the campus has had a century of tradition; on the other, it is new, not only in name but in organization and principles of operation, and, like other universities, places under an independent board of governors." – John D. MacLachlan
MacLachlan was the first president of OAC to be elected by an OAC alumni committee rather than being appointed by the Ontario Ministry of Agriculture. MacLachlan gained a good reputation during his time as a professor and the head of the Botany Department. He has been described as an inspiring teacher and a talented researcher.
MacLachlan served three different presidencies during his time on campus. His first was at OAC from 1950-1962, where he drew attention to the significance of research and academic growth and support of internationalism. During this time he encouraged the integration of OAC, OVC and Macdonald Institute to form the Federated Colleges, which MacLachlan became president of in 1962. The transition period required a lot of MacLauchlan's attention. Often holding planning and recruitment meetings in his own home, he was still able to remain a down to earth family man who took his children to the dairy barn on Sundays.  
MacLachlan's commitment to the pursuit of university status for the integrated colleges led to the establishment of the University of Guelph in 1964, with MacLachlan serving as the first president. It is very possible that without the ambition and perseverance of John Douglas MacLachlan, OAC's reputation may have degraded and the University of Guelph may not have existed.
References and Further Reading
Posted on September 18, 2014