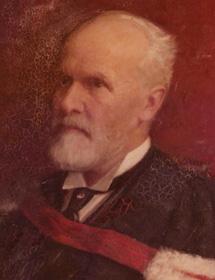 Affiliation:
Principal / President / Dean
About
James Mills served as the principal of the Ontario School of Agriculture and eventually as the president of the Ontario Agricultural College for 25 years. After losing his right arm in farming accident at the age 20, further education became a personal priority as he could no longer perform manual labour. Mills was married to Jessie Ross and had seven children.
"With a thoroughly practical curriculum, faithfully carried out, the course at an agricultural college has the opposite effect. It not only makes a young man more intelligent and successful worker, but has a tendency to inspire him with a love for agriculture as one of the most independent, honorable, and desirable occupations." – James Mills
Mills took on leadership of the Ontario School of Agriculture during a pivotal time in the school's development. He mended the strained relationship between the school and community and built public confidence in the value of the college. He did so by introducing the Innovative Farmer's Institutes of Ontario in 1885 bringing adult extension education programs directly to the farm. His dedication to the betterment of the community gained their trust and support and in this way became the first proponent of extension work in the college.
Another of Mills' most prevalent contributions to OAC was his support for the establishment of the Macdonald Institute for women in 1903. As a father of five daughters, Mills saw the significance of educating young women. Mills overcame financial adversity while supporting Adelaide Hoodless to create the Institute of Home Economics for women, which has later been quoted as the greatest event in the history of OAC.
Mills was also an integral part of closing the divide between the Experimental Farm (The Farm) and the school, which were operating as separate entities. He persuaded the government to allow the president, himself at the time, full control of The Farm to begin a cohesive and more collaborative relationship.
References and Further Reading
Quote reference: "Agricultural Colleges", OAC review vol V, no 3, December 1893, 2-4.
Photo credit: Archival and Special Collections, University of Guelph Library
Alexander M. Ross. The College on the Hill: A History of the Ontario Agricultural College, 1874-1974 (Toronto: Copp Clark, 1974)
Dictionary of Canadian Biography "Mills, James", http://www.biographi.ca/en/bio/mills_james_15E.html

[1]

"Historical Plaque: James Mills 1840-1924", http://www.uoguelph.ca/historicaltour/pl_mills.html?height=400&width=570

[2]
Posted on September 18, 2014