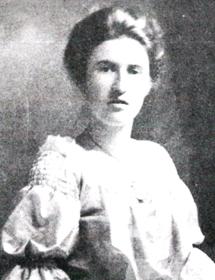 About
Isabella Preston immigrated to Guelph in 1912. She preferred independent reading to attending lectures and became a self-taught expert on flowering ornamentals. She started courses in the Department of Horticulture in 1912 but withdrew by 1913. From 1913 to 1920, she was the assistant to Prof. Crow in the Department of Horticulture. In the winter of 1917-18, she lost her entire stand of lily seedlings to winter kill. Undaunted, she went on to release the magnificent George C. Creelman hybrid lily in 1919.
"Use every bit of rock – Don't be afraid of it. Plant between, atop or along side. Presently, you will be convinced that flowers need near them the harsh stability of stone." – Isabella Preston
Preston was one of Canada's most successful breeders of ornamental plants. In 1920, at age 39, she accepted a position at the Central Experimental Farm (CEF) in Ottawa. This was a coup for women in science as professional horticulture was a man's world. For the next 26 years, until she retired, she bred ornamentals acclimated to for the various geographic regions in Canada. Her selections were released through the Central Experimental Farm and its satellite stations across the country.
Preston worked with six different plants: lily, lilac, rose, columbine, Siberian iris and crabapple. She developed over 200 individual hybrids. In each case, except the columbine, she crossed existing varieties to produce disease-resistant varieties with abundant beautiful flowers. She named her introductions after Canadian rivers (Siberian iris), Canadian lakes (crabapple), British fighter aircraft (lilies) and Shakespeare's heroines (lilacs). She was generous with her expertise and enthusiastically hosted guided tours through the CEF's ornamental gardens. She also answered countless letters from amateur and professional gardeners.  
Preston retired to Georgetown, Ontario, in 1946, where she planted and maintained wonderful flower beds at her home. In 1956, the North American Lily Society established the "Isabella Preston Trophy", still awarded for best stalk in the show.
References and Further Reading
Quote reference: Advice given to a colleague whose rock garden, situated in the Gatineau Hills outside Ottawa, was ultimately a showpiece of beauty and originality.  Edwinna von Baeyer. "The Horticultural Odyssey of Isabella Preston" in Canadian Horticultural History 1 (3): 1987
Photo credit: Canadian Horticultural History: an Interdisciplinary Journal vol 1, no 3, 1987, pp 125-175.
"Isabella Preston", http://www.thecanadianencyclopedia.ca/en/article/isabella-preston/

[1]

;
"Isabella Preston – Grand Lady of Horticulture", http://www.friendsofthefarm.ca/rosepreston.htm

[2]

Isabella Preston. Garden Lilies (New York: Orange Judd Publishing Co., 1929)
Posted on September 18, 2014