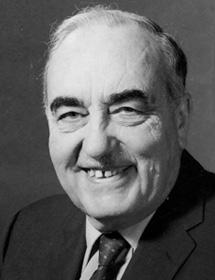 OAC Pillar:
Agriculture
Communities
Food
About
Hugh Branion studied biochemistry at the University of Toronto, and received his PhD in 1933. He was hired by OAC's Department of Poultry Husbandry to establish a nutrition laboratory, where he studied the importance of vitamin D and manganese. He served on the editorial board of Poultry Science from 1936 to 1977.
"The presence of the family, the campus atmosphere, the good times, even the pleasure of seeing the children of members progressing year by year, from the toddler to the teenager to the young adult is a part of the annual meeting. Softball games are still in evidence. The scientific sessions and discussions are well attended. In fact, the combination of work and play still keeps the Association young and virile, and far from dull." – Hugh Branion
Branion was the first head of the Department of Animal Nutrition, formed in 1932 to study the effect of diet, especially the newly-discovered vitamins, on the health of animals and humans. Branion fostered a continuing close relationship between OAC, the University of Toronto and the Hospital for Sick Children. He was part of the team that developed the original formula for the pre-cooked infant cereal, Pablum.
During World War II, OAC loaned Branion to the Royal Canadian Air Force (RCAF), where he served as a member of the Advisory Committee to the Ministry of Defense on Rations for the Armed Forces. He supervised the RCAF Nutrition Laboratories in Canada, including the RCAF School of Cookery on the OAC campus. Instructors were seconded from the nutrition department and Macdonald Institute (where classes were held), and cookery students were fed in Massey Hall. Under Branion's command, RCAF military rations were nutritious and delicious. He also served in Europe; following the War, he received the Order of Oranje-Nassau for his work in developing a mobile kitchen for feeding the people of Holland.
From 1959 to 1965 he was head of Graduate Studies for OAC and from 1964 to 1968 acted as the dean of Graduate Studies for the University of Guelph. In 1968 he became assistant to the president a position he held until 1977. In his work as administrator with OAC and University of Guelph, Branion was a popular figure: he "knew everybody and everything that happened on campus".
References and Further Reading
Quote reference: Commenting on the annual meetings of the Poultry Science Association, in O.B. Kent and H.D. Branion, A Brief History of the Poultry Science Association and Its Journal, 1908-1958. Published in commemoration of its founding at Cornell University, July 1908 (Ithaca: Poultry Science Association, 1958)
Herb Shoveller, "U of G's Military History", The Portico Magazine, Winter 2008
Posted on September 18, 2014