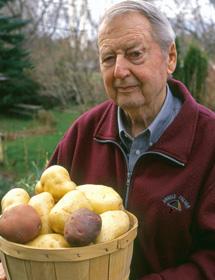 About
Before he enrolled at OAC, Gary Johnston taught public school from 1936 to 1941. During World War II, he served in the Royal Canadian Air Force. From 1953 to 1980, he was a research scientist with the Canada Department of Agriculture seconded to OAC. He continued potato research after he retired and was an Honorary Life Member of the Potato Association of America. 
"Some of these varieties e.g. Huron, Nipigon and York didn't make the potato "hit parade" probably due to lack of promotion, scarcity of seed but most of all NOT being marketed by variety name." – Gary Johnston
Johnston's potato research program, headquartered at the Cambridge Research Station in the Horticulture Department, OAC, yielded abundant results. The story of Johnston's world-famous Yukon Gold potato variety illustrates his creativity and patience as a plant breeder. In a quest for new germplasm, Johnston travelled to marketplaces in mountainous Peru, the ancient centre of origin of potatoes. There he collected local potatoes of different sizes, shapes, skin and flesh colours, flavours and cooking qualities. A cross between the Peruvian 'golden egg' variety and Canadian stock potato produced the world famous Yukon Gold. Yukon Gold satisfied the needs of Canadian growers for a table potato with disease resistance, and in 2011, it was grown in every province except Nova Scotia. In 2008, the United Nations International Year of the Potato featured the Yukon Gold in its celebration of potato diversity.
Johnston argued that a successful breeding program was not enough for the Canadian table potato industry: marketing under a catchy name was necessary before consumers would recognize a new variety. Thus Yukon Gold was the first Canadian potato to be sold and promoted by name. Among his many other selections are OAC Royal Gold, which was released in 1998 and is a purple-skinned and yellow-fleshed variety named in honour of Guelph, the Royal City.
Due to Johnston's success, the co-operative potato breeding program at the University of Guelph is ranked one of the top four in the world.
References and Further Reading
Posted on September 18, 2014