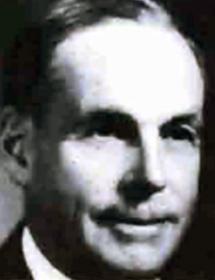 About
Fred Presant knew the feed business from an early age, as his father owned Guelph Victoria Flour Mills on the Speed River until 1909. As soon as he returned from active service in World War I in Europe, he enrolled at OAC. From 1923 to 1926 he was a vegetable extension specialist and lecturer in the Department of Horticulture. He then taught at the Western Ontario Experimental Farm in Ridgetown, Ontario until 1928.
"I made my application from England, and had acknowledgement of it, and planned to enroll in September. I had returned in July from England, and took on a job that kept me busily occupied until September, when I came back as a freshman in the Class of '23." – Fred Presant
In 1928, Presant accepted a new challenge – a job with Master Feeds and Toronto Elevators, fledgling companies which included a formula feed business, storage elevators on the Toronto waterfront, and lake freighters. He was the first manager. He employed OAC graduates as often as possible because of their training and ability to take on responsibility, and worked in close collaboration with the animal nutrition specialists at OAC and Cornell University in New York to develop products for poultry, livestock and dogs. He was a charter member of the Canadian Feed Manufacturers' Association, established in 1929.
Early in 1940, Presant was seconded to Ottawa to become Administrator for Flour, Feed and Grain under the World War II Wartime Price and Trade Board. When commodity prices, salaries and wages were frozen by the government, he was able to expedite the movement of goods to Allied troops. He returned to Toronto Elevators in 1943 to oversee the construction of a solvent extraction plant and oil refinery for flax and soybeans. 
Following his retirement in 1962, Presant was a founding director of the OAC Alumni Foundation, registered in 1960, and in 1964 was the first vice-chair of the Board of Governors of the new University of Guelph.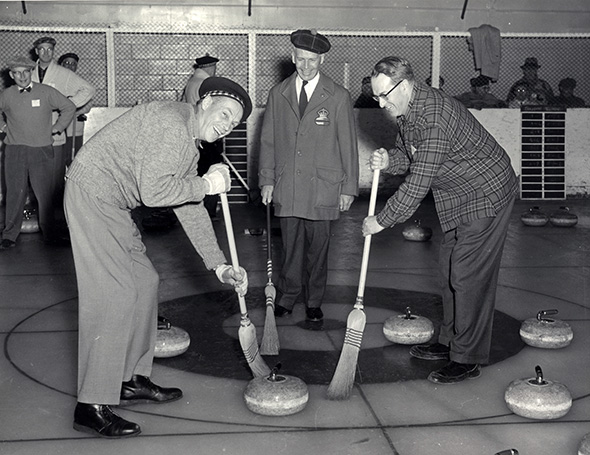 Fred Presant, J.D. MacLachlan [1] and Bob Pauley at an OAC Alumni Association Curling Bonspiel
References and Further Reading
Quote reference: Fred Presant Describing his start at OAC in 1919, after the end of World War I, where he served in the Royal Flying Corps, in an interview with H. Petitt, August 18, 1987.
Photo credit: Guelph Alumnus Magazine, May 1972
"Frederick W. Presant (1897 - 1996)" http://www.cahfa.com/Home/Inductees/InducteeDetails/tabid/93/ID/f0bacd78-65f1-4dc3-a101-643670b02789/Default.aspx

[2]

;
"About the Great Lakes", http://archive.today/HtDpv

[3]

"Fred Presant", Transcript of an interview with Fred Presant, 1987, http://www.lib.uoguelph.ca/find/find-type-resource/archival-special-collections/alumni/fred-presant

[4]
Posted on September 18, 2014