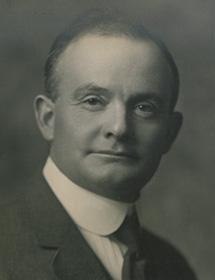 About
Following graduation from OAC, E.C. Drury worked for one year as farm manager at Macdonald College in Montreal. He served as the first president of the United Farmers of Ontario (UFO) political party, and Premier of Ontario from 1919 to 1923. He also held several municipal offices in Simcoe County, where he continued to farm. 
"Ten or twelve years ago [mid-1950s] Simcoe County, in recognition of my efforts in the cause [of reforestation], named one of its forests 'The E.C. Drury County Forest.' I would rather have this for my monument than a statue in Queen's Park or on University Avenue." – E.C. Drury
Although Drury himself attended OAC, many farmers in Ontario criticized book learning; likewise, they believed that agricultural policies would be best formed by practising farmers, not politicians or agricultural scientists. The UFO and United Farmers Co-operative Company (UFCC) were organized in 1913 to represent the political and economic interests of farmers, who were disadvantaged by increasing urbanization, which tipped the balance of influence in favour of manufacturing.
The UFO and Drury revived the independent farm movement of the late 1800s, and successfully lobbied the provincial government for mail delivery to rural Ontario and public ownership of hydroelectricity, even though service through the rural countryside proceeded at a snail's pace. In 1919, much to their own surprise without a leader or an official political party on the ballot, a majority of UFO candidates was elected. Drury agreed to become premier and form a Cabinet of "untried men" which governed until 1923.
Even before he was elected, Drury was committed to rural reforestation. Shortly after the UFO took office, he reintroduced support for forestry projects, which had lapsed under the previous government. These included a tree nursery and demonstration forest at Midhurst, the first of many municipal Agreement Forests scattered throughout the province on land that was unsuitable for field crops, but which eventually stabilized watersheds and provided regional income from forest products and tourism.
References and Further Reading
Quote reference: Farmer Premier. Memoirs of the Honourable E.C. Drury Toronto Montreal: McClelland and Stewart, 1966, 100.
Photo credit: "EC Drury Photo B", Wikipedia, http://en.wikipedia.org/wiki/Ernest_Charles_Drury#mediaviewer/File:EC_Dr...

[1]

H.H. Hannam. Pulling Together for 25 Years; A Brief Story of Events and People in the United Farmer's Movement in Ontario during the Quarter Century 1914-1939 (Toronto: United Farmers of Ontario, 1940)
John Bacher. Two Billion Trees and Counting: The Legacy of Edmund Zavitz (Toronto: Dundurn Press, 2011)
Posted on September 18, 2014