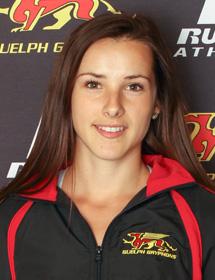 About
Emily Gordon is a fourth year student in the Bachelor of Science degree program, majoring in environmental biology. She is busy balancing her time between course work and running on the Gryphon Women's Track and Field team.
"I grew up in Nova Scotia and moved to Guelph in high school. The city was still pretty new to me and I wanted to stay. The University is also one of the leading schools in environmental science, which is what I wanted to study. It fit perfectly." – Emily Gordon
Emily is a "middle distance" runner and typically runs races around the 800-metre mark. She's been on the track team since she started at Guelph and enjoys the routine, health benefits and camaraderie it provides. In the spring of 2014, she competed at the national level for the first time at the Canadian Interuniversity Sport championships. Emily was excited to bring home top honours with her team.
Emily enjoys her degree program because of its strong foundation in science. Her favourite aspect of the degree so far was the Independent Research course, which she took in third year. The course operates as a sort of mini master's project and enabled Emily to work in a lab with a post-doctoral fellow. She selected her research topic, set up her own study, did a literature review and wrote a final paper on her findings. She researched the impacts of aphids feeding on barley and focused on the interaction between this herbivore and plant species. She also worked with her advisor on the impacts of different CO2 levels on the herbivore/plant interaction, as CO2 levels are expected to increase.
A topic of real interest to Emily is climate change. She thinks she will pursue a master's in environmental science or engineering and is interested in focusing her research on toxicology in relation to climate change, such as chemicals in the environment.
References and Further Reading
Photo credit: Gryphon Athletics
Posted on September 18, 2014