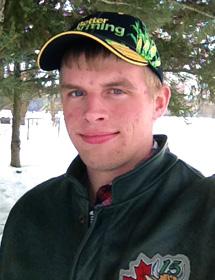 About
Drew De Bruyn spent his childhood days on his family's pig farm with his four siblings and became familiar with the functions of a farm by helping with farm chores as soon as he could walk. Drew also nurtured a sense of community while participating in 4-H, Boy Scouts and Junior Farmers. He now actively participates in and supports the growth of the OAC student community.
"I started the OAC Swine club, as a place for like-minded folks to gather and talk about our common interest of pigs while learning from each other. Also giving the opportunity for those not familiar with the swine industry to join, ask questions and gain important experience." – Drew De Bruyn    
As a founder of the OAC Swine club, Drew arranges meetings, sets up guest speakers and attends different industry meetings. The club is an opportunity for students at the University of Guelph to gain experience and knowledge of swine production through tours, attending conferences and hearing industry professionals speak. Drew is proud to have created such a successful club, made up of 25 members, meeting every other week. Members learn from their peers and network within the agricultural community. Drew is also a member of the dairy, poultry and beef clubs to help himself become more familiar with different industry sectors.
Drew has always known he wanted a future in agriculture. He enrolled in the Bachelor of Science in Agriculture program majoring in Animal Science to support his practical knowledge with more scientific background.
Now entering his fourth year of study, Drew has taken advantage of events on campus such as the OAC job fair, which have opened his eyes to the diverse opportunities at his fingertips. Ultimately, whatever route he chooses, Drew hopes to gain an abundance of experience from different parts of the agricultural industry to bring back to his family pig farm.
Posted on September 18, 2014